Blockchain, cryptocurrencies, and NFTs have enabled the development of the best play to earn games rewarding you in crypto assets when you play these for fun.  
Gone are the days when parents or teachers would say video games distract you from your career goals. Nowadays, game geeks are making a fortune from play-to-earn games through live streaming, in-game NFT minting, and earning crypto as rewards.
Some of these play-to-earn (P2E) games could be free (Gods Unchained), or some require you to invest (STEPN) to start gaming and earning. Assuming you're already familiar with the concept of NFT games, here are the ten best P2E game titles to try.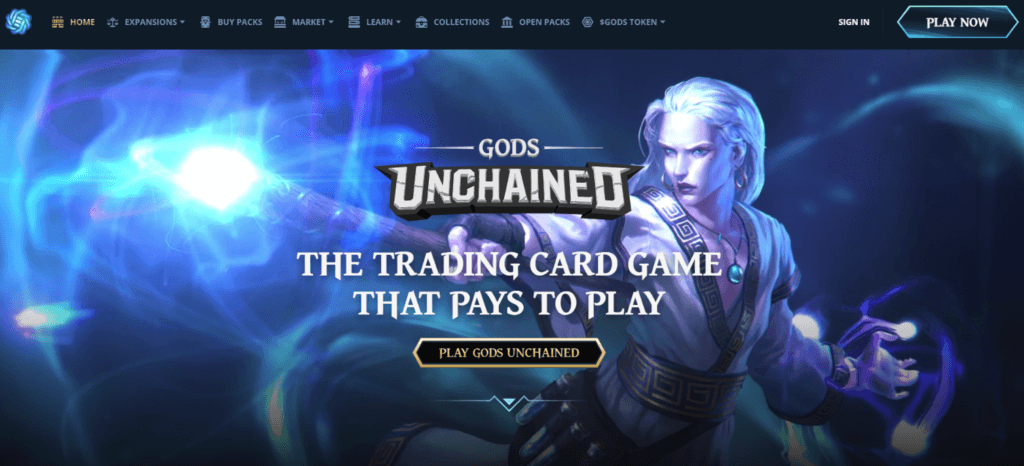 Gods Unchained is a tactical card game where you need to build card decks of heroes or gods to defeat the card decks of your opponents and earn GODS coins.
Since this is a free-to-play game, you'll get a total of 140 god cards to begin the journey. These cards will come pre-sorted in six decks.
By playing the game, you can earn GODS tokens or in-game NFTs. The Immutable X Marketplace lets you trade these items on its platform. GODS coin's value is better than Axie Infinity's SLP.
Genre: Trading card game
Platform: Windows PC and macOS
Blockchain: Ethereum Layer 2 Immutable X
Pros
Free to download and play
Good graphics and sound effects
You can earn GODS coin
Cons
Game rules are complex
No guaranteed earnings
You have to pay Ethereum gas fees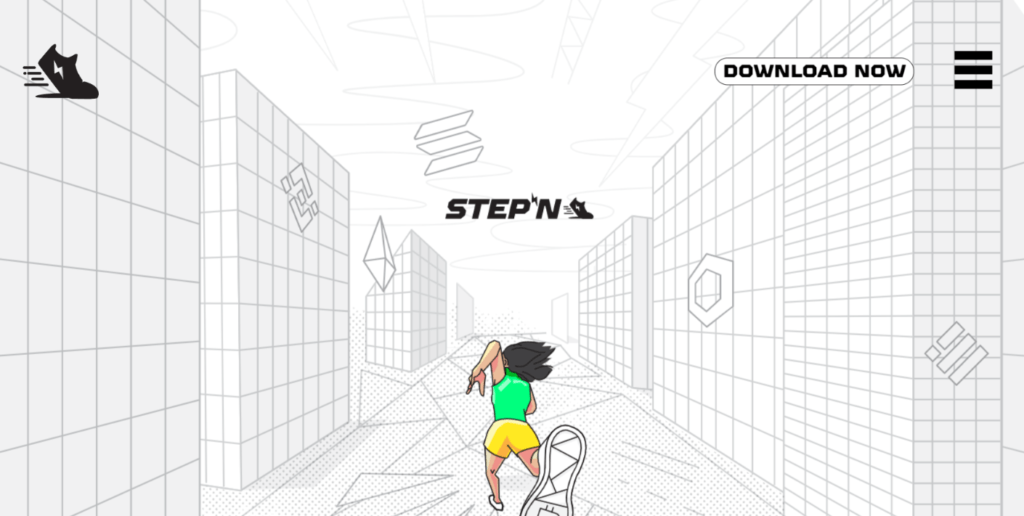 STEPN is a lifestyle gaming app made on Web3 and blockchain. It has Game-Fi and Social-Fi elements that connect users in a virtual place and let them compete against each other in a fun-filled way.
All you need to do is install the game app and link it with your favorite crypto wallet. Then, buy a pair of NFT sneakers using the SOL coins and start running, jogging, or walking indoors and outdoors to earn Green Satoshi Token (GST), the in-game crypto coin.
GST is a valuable asset in crypto exchanges, and hence you can earn a lot of money by playing the game. You can also mint new sneakers and rent them to get GST.
Genre: GameFi and lifestyle gaming
Platform: Android and iOS
Blockchain: SOLANA and BNB Chain
Pros
Simple gaming rules
GST and GMT are high-value tokens
Lead a healthy lifestyle
Cons
You need to buy sneakers with SOL coin to start playing
The rental system is yet not available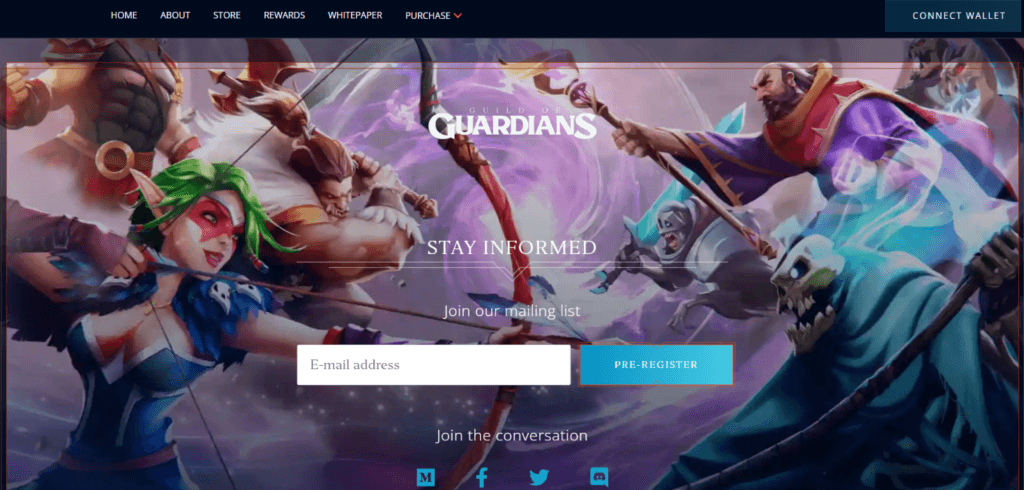 Guild of Guardians is a multiplayer RPG game that lets players develop a team of Guardians to contest in a guild and win tradeable crypto assets like GOG tokens. Currently, the developers are still giving it final touches and only allowing pre-registered players to collect founder heroes.
The game should be available soon in 2022. You can follow the @GuildOfGuardian Twitter handle to stay in the know as soon as the game launches.
Genre: Role-playing game or RPG
Platform: Android and iOS
Blockchain: Ethereum
Pros
Supported by the game development giant Ubisoft
You can start playing the game for free
Cons
The game developer will be collecting 20% fees from primary and secondary sales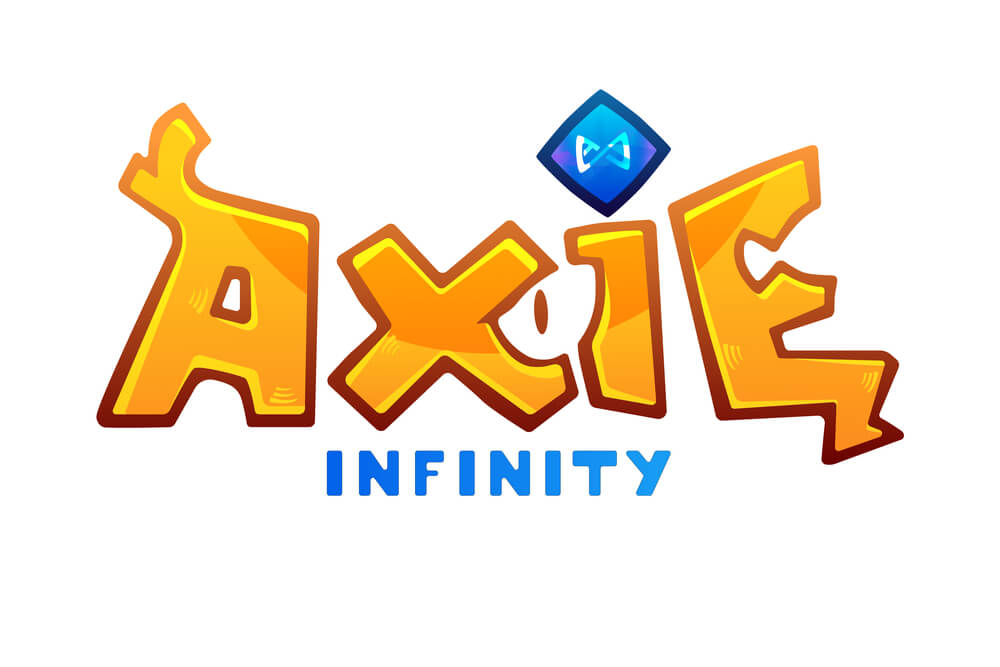 Axie Infinity is the pioneer of NFT-based video games. Players breed pets or Axies in the Axie Infinity metaverse and use them for arena or single-player battles. You need SLPs and energies for breeding, which you can earn by completing daily quests and single-player or adventure mode gameplay.
You can also purchase SLP from secondary marketplaces and start breeding higher-level Axies. There are various earning opportunities in the game. For example, you get SLPs for winning arena battles which you can sell in crypto marketplaces. You can also trade Axies NFTs on NFT marketplaces.
Genre: Tactical battles 
Platform: Windows PC, macOS, Android, and iOS
Blockchain: Ronin
Pros
Gas fees-less transaction of SLP coins on the RON network
Free-to-play mode available
Cons
The value of SLP is constantly dipping to an increased supply
Daily quest and adventure mode may longer earn any SLP tokens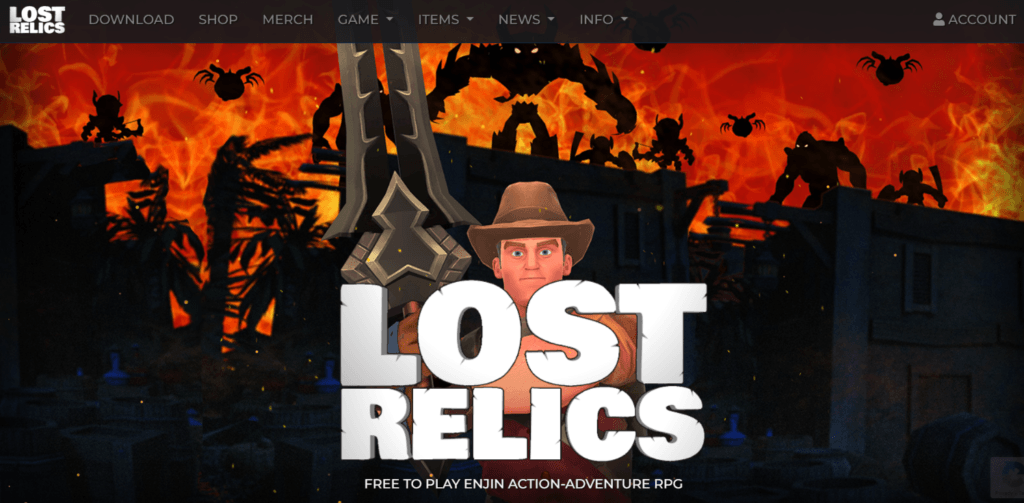 Lost Relics is an action and adventure game built with the Unity gaming engine and on the Enjin blockchain. It's a free-to-play game where you don't need to buy specific crypto coins to enter the game ecosystem.
Earnings in the game aren't guaranteed. But, it has a good earning potential should you get your hands on rare collectibles like shadowstones, gold coins, and other blockchain assets.
Genre: Role-playing game or RPG
Platform: Windows PC and macOS
Blockchain: Enjin
Pros
It has a built-in marketplace where you can trade items with fellow gamers
Cons
There is a long waitlist for new account activation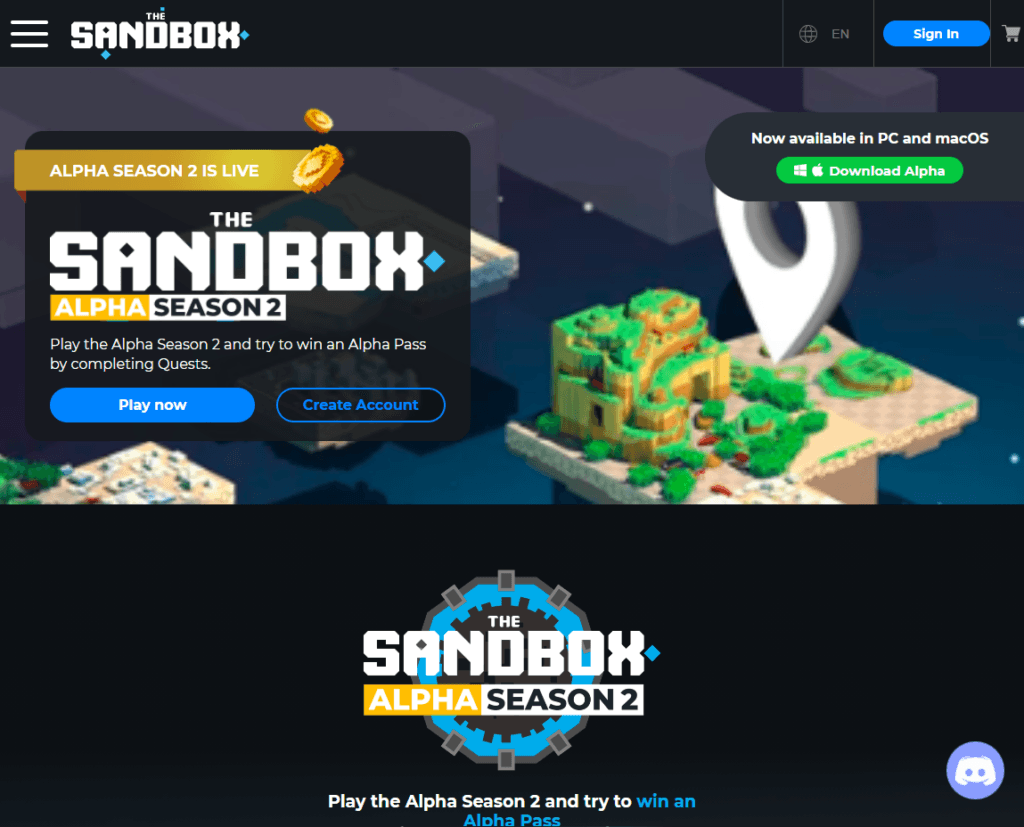 The Sandbox metaverse brings creator economy and gaming into one place. You can create games, develop assets, or participate in games created by other gamers.
The content is Voxel-based designs and hence looks similar to Minecraft or Roblox. The utility token of this gaming metaverse is SAND with a limited supply of 3 billion SANDs. Hence, it is a rare coin, and you can earn it by creating games, artworks, and renting LANDs.
Genre: Virtual world
Platform: Windows PC and macOS
Blockchain: Ethereum
Pros
It's a VR-enabled metaverse game
You can also create content for the metaverse and earn
Cons
There are economic and liquidity restrictions around the SAND token.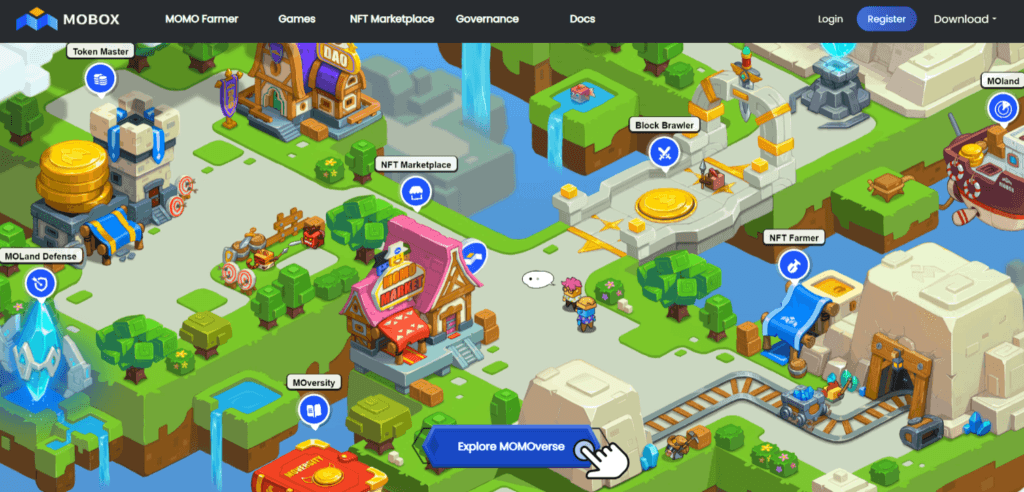 MOBOX is a hybrid gaming platform where you can earn from both Gaming NFTs and DeFi yield farming. It offers a wide range of games like MOMOverse, NFT Farmer, Block Brawler, Token Master, ChainZ Arena, and MOland Defense.
You can play all these games for free and start earning a handful of MOMO keys. Crypto exchanges let you trade MOMO keys for fiat money.
Genre: GameFi
Platform: Windows PC, macOS, iOS, Android
Blockchain: BNB Chain
Pros
It's a project from the Binance Launchpool
Cons
You need to learn how to operate NFT Creator, Game Creator, and the NFT Marketplace of MOBOX before you can start earning crypto assets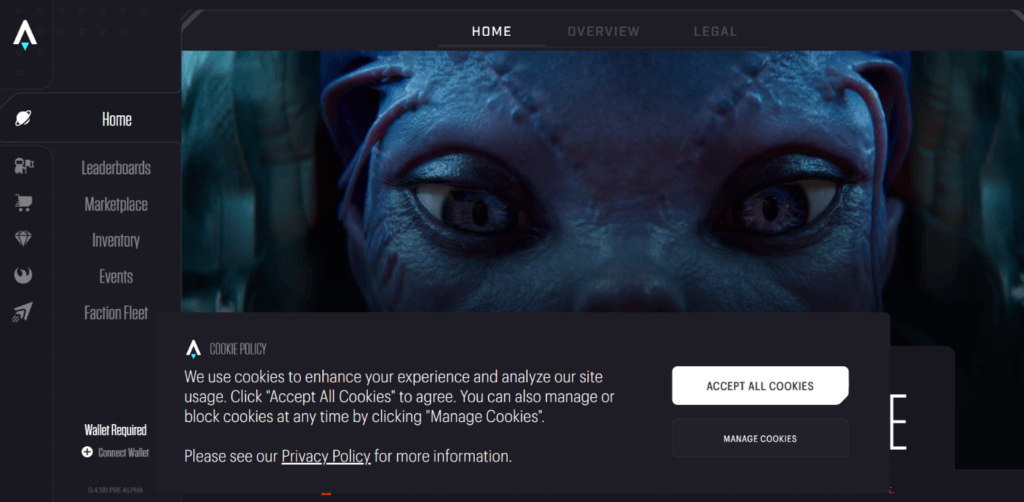 Staged in the year 2060, it's a virtual gaming metaverse based on planets, stars, space ships, and yet to launch. In addition to these components, three factions or races will control the universe. These are humans in the control of MUD Territory, aliens governing the ONI Region, and AI androids control the Ustur Sector.
Its in-game economics depend on production and piloting processes. The game will offer various valuable assets like utility token ATLAS, governance token POLIS, Land parcels, Ships, Crew, Equipment, etc. It's considered that these will be tradeable on the secondary marketplaces.
Genre: Real-time strategy or RTS
Platform: Windows PC and macOS
Blockchain: SOLANA
Pros
Open world metaverse gaming system with various earning potentials
Cons
It's a time consuming strategic development game and hence not suitable for quick earnings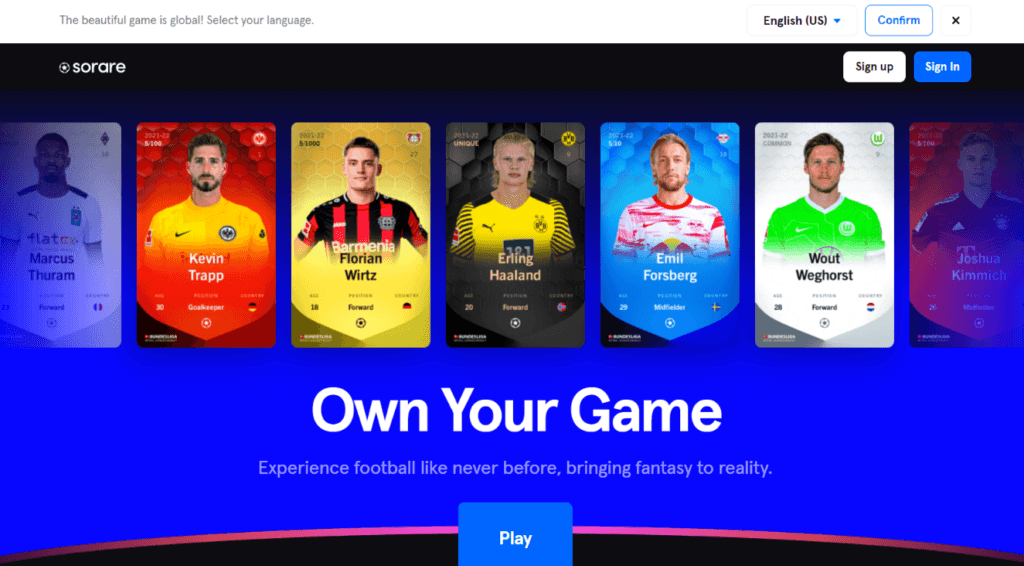 SORARE is a fantasy football-based card deck game. The cards reflect football players of the real world. Each card's power and skills will dynamically change according to the original player's performance in the real world.
These cards are essentially NFTs, so you can sell rare cards to earn a large chunk of fiat money.
Genre: Fantasy football
Platform: Web browser
Blockchain: Ethereum
Pros
Easy gaming rules
If you're a football geek, you should get an edge over your opponents
Backed by renowned footballers like Gerard Pique and Antoine Greizmann
Cons
You may need to pay hefty Ethereum gas fees
Read our guide to NFT gas fees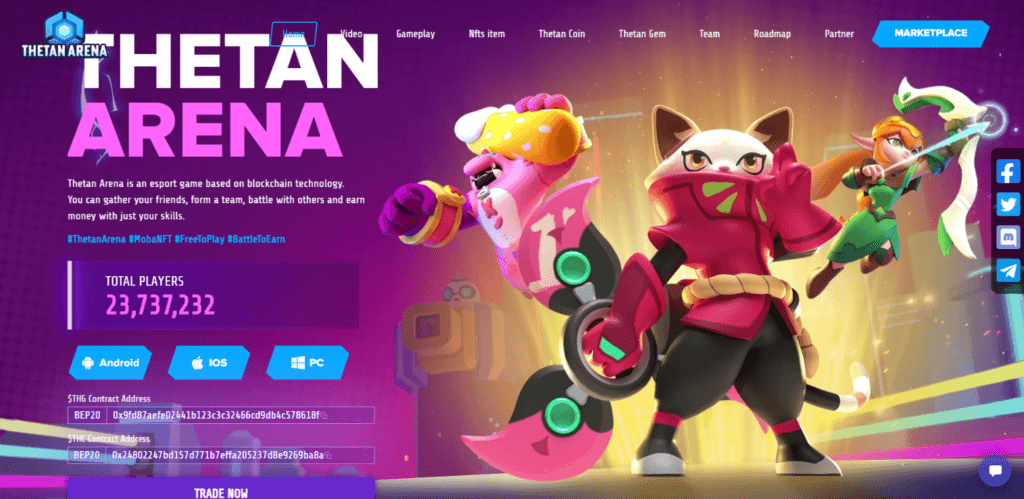 Thetan Arena is a blockchain-based free-to-play esports game. Here, you can team up with your friends and defeat your opponent team to capture their bases and earn THC coins in the process. Success and earning potential depends on individual gaming skills and collaborative effort.
You can participate in different game modes like Battle Royale, 4×4 Death Match, 4×4 Super Star, and 4×4 Tower Destroy to earn lots of THCs which are tradable in crypto exchanges.
Genre: Multiplayer online battle arena or MOBA
Platform: Windows PC, Android, iOS
Blockchain: BNB Chain
Pros
Easily playable on low-spec devices
You get basic in-game heroes and skills for free
Cons
At some point, you need to spend to go beyond a level
The game lacks real-time in-depth hints and tutorials
Frequently Asked Questions (FAQs)
What Games Can You Play To Make Money?
You'll find many non-blockchain games in Google Play or App Store that claims to pay you real money in rewards. But, most of them are tricky or fail to deliver the claim.
Rather, you can invest your time in play-to-earn blockchain games like Axie Infinity, Gods Unchained, STEPN, Spider Tank, Plant VS Undead, etc.
What Games Can I Play To Earn Cryptocurrency?
You can give the following blockchain games a try:
1. Decentraland; crypto coin MANA
2. The Sandbox; crypto coin SAND
3. Axie Infinity; crypto coin AXS and SLP
4. STEPN; crypto coin GST and GMT 
What NFT Games Are Free?
Play-to-earn games are becoming increasingly popular among teenagers and youngsters. Most of these games reward the players in the form of in-game cryptocurrencies or NFTs. 
Some popular free NFT games are Splinterlands, Coin Hunt World, Chainmonsters, Gods Unchained, and The Sandbox.