Learn what is VeeFriends NFT, what it does, how to buy it, and what makes it unique.
VeeFriends NFT has gained worldwide momentum, allowing NFT enthusiasts to join a vast creative community and enjoy real-world utility.
The project is a blue-chip NFT (Non-Fungible Token) collection of digital artwork by Gary Vaynerchuck, a Belarusian-American entrepreneur, speaker, and author.
He's the chairman of VaynerX, the CEO of VaynerMedia, the co-founder of Resy and Empathy Wines, and the founder of VeeFriends LLC.
Vaynerchuck launched his inaugural NFT collection in May 2021, selling over 3,000 tokens in the first 24 hours via a Dutch auction at the mint price of 0.5 ETH (Ether, the native cryptocurrency on the Ethereum blockchain). Since then, the mint price has continued rising, drawing thousands of NFT investors into Gary's world.
What Is VeeFriends NFT?
VeeFriends NFT is a collection of 10,255 non-fungible tokens developed on the Ethereum blockchain using the ERC-721 token standard for smart contracts. All NFTs are VeeFriends LLC's intellectual property, which means that you can't sell, distribute, or redesign them.
They are on-chain digital assets representing 268 unique characters that Gary has created. Each character portrays human traits that, according to Gary, bring happiness and success, such as empathy, gratitude, and patience.
That's what inspired him to develop the project. He wanted to leverage NFT technology and smart contracts to create meaningful artwork, build a community of NFT enthusiasts with shared interests, and showcase that business with friends can be entertaining.
What VeeFriends NFT Does
VeeFriends gives its NFT holders exclusive access to VeeCon, an annual multi-day conference with entertainment options, competitions, and informational content.
It's the first conference ever that requires claiming admission using an NFT. It gathers entrepreneurs, thought leaders, and industry experts who tackle various business topics, entrepreneurship, marketing, innovation, and creativity. Attendees have a unique opportunity to learn about NFT technology, share ideas, and forge meaningful relationships with the community.
VeeFriends NFT holders get a VeeCon access pass for three years, but their tokens don't have an expiry date as collectibles. More tokens equal more admissions, meaning you get three VeeCon tickets, for instance, if you have three VeeFriends NFTs.
Each NFT has different real-world utility and access levels, depending on the rarity score that also determines the price.
There are three token groups:
Admission tokens (9,400): They are verifiable NFTs for admission to VeeCon;
Gift tokens (555): These are verifiable NFTs that give holders six gifts per year for three consecutive years, besides a three-year VeeCon pass;
Access tokens (300): These are verifiable and redeemable NFTs that unlock experiences with Gary, like grabbing lunch or playing a game together. Some offer virtual access (210), with holders getting one virtual hangout session with Gary per year, while others (90) provide in-person experiences. Access NFTs provide group access (165) for spending time with Gary and other token holders, one-to-one access (108), competition access (22) for playing a game with Gary, and scholarship access (5) for exclusive mentoring and coaching by Gary or his professional team. Of course, these NFTs also provide a VeeCon entry.
How to Buy VeeFriends NFT
Before buying a VeeFriends NFT, you should familiarize yourself with the prices to know what to expect.
This blue-chip NFT launched with a mint price of 3 ETH and a floor price of 0.5 ETH, but its value has changed significantly over time, reaching an impressive 15.5 ETH floor price by March 2022.
On March 4, 2022, the community witnessed the sale of the most expensive VeeFriends NFT in nearly a year – 120 ETH ($327,900 at the time) for Podcast Panther.
Another notable sale occurred in October 2021, when five VeeFriends NFTs sold for an astonishing $1.2 million at Christie's Post-War to Present live auction.

You can't buy VeeFriends NFTs on the official website, but you can browse the collection before heading to a secondary marketplace.
The most trusted one is OpenSea, a decentralized NFT marketplace supporting only cryptocurrencies, including Ether. That's where you can find verified contracts and make secure transactions.
You can safely purchase NFTs on OpenSea by taking the following steps:
Set up a non-custodial cryptocurrency wallet compatible with ETH. VeeFriends supports MetaTask, WalletConnect, and Portis wallets;
Fund your wallet and purchase ETH on a cryptocurrency exchange like Coinbase or Binance;
Get a browser extension compatible with your wallet and sign in to your account;
Head to the VeeFriends website, click the "Connect Wallet" button, select your wallet, and provide its address;
Choose an NFT and select "View on OpenSea" to access the platform's VeeFriends collection. You can also browse the collection on OpenSea, where you filter the items by status, price, edition, category, rarity, and more;
Place a bid if the asset is currently on auction. Otherwise, make an offer or click the "Buy now" button to purchase the NFT at the current price;
OpenSea will send the transaction to your wallet so that you can sign and confirm it before sending you your new NFT.
Remember that OpenSea requires WETH (Wrapped ETH) for buying tokens currently on auction.
We recommend creating an account on Discord, OpenSea's community-building platform for NFT projects and cryptocurrencies. You can connect with Team GaryVee and the community and get the latest OpenSea announcements.
The Future of VeeFriends NFT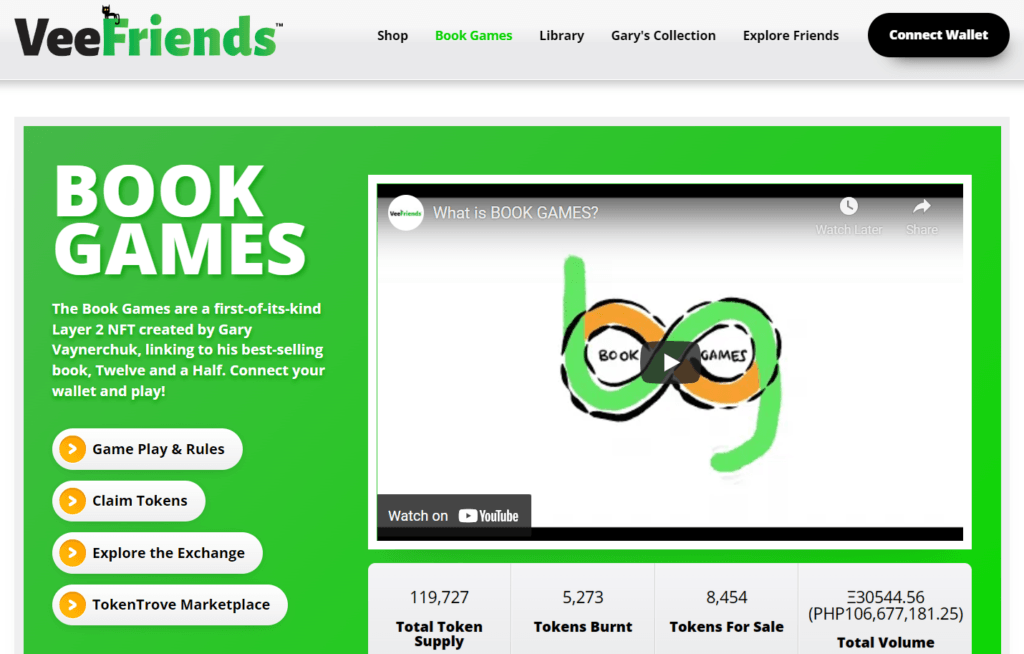 The rise of nun-fungible tokens has made it possible for the VeeFriends NFT project to continuously thrive and raise its mint and floor prices. The project has grown so much that Gary Vee has created a VeeFriends Series 2 with 15 new characters.
The characters will have an "Evolving" feature, enabling NFT holders to upgrade them from their original design. That's why only VeeFriends Series 1 holders will be able to get their hands on the Series 2 NFTs.
The only way to get those characters is to burn Book Games tokens, new NFTs that link to Gary's best-selling book, "Twelve and a Half." Burning them means using them to buy other items, like Series 2 tokens.
The 123,000 Book Games NFTs represent 16 digital artworks with 1,200 rarity types and are available on Immutable X, the first Layer 2 for NFTs on the Ethereum blockchain. The marketplace ensures instant trades, no gas fees, and carbon-neutral NFTs.
VeeFriends announced it would airdrop 32,000 BG tokens to eligible wallets of VeeFriends NFT holders who exchanged their NFTs for a VeeCon ticket. Buying 12 copies of "Twelve and a Half" also gives you a free NFT airdrop.
Users need to register for an Immutable X wallet to claim or mint BG tokens. That will give them access to TokenTrove, an NFT marketplace where they can buy, sell, or trade their Book Games tokens.
VeeFriends has also expanded to the physical world, starting with a partnership with Mattel Creations. The companies teamed up to reimagine the famous UNO cards and bring Gary's NFT characters to life.
Each VeeFriends UNO deck contains one card with a unique, non-playable foil, and players will have 17 characters to collect. There's also a new rule card requiring the next player to take a selfie with the cards and share it on social media with the #veefriendsuno hashtag.
VeeFriends' remarkable success is proof that NFTs are the future. We will undoubtedly witness many more brilliant innovations from this and other companies in the NFT space.