Discover what is the 10KTF NFT, a secretive project with ties to blue-chips like World of Women, Cool Cats and Bored Ape Yacht Club.
Minted quietly in September 2021, 10KTF NFT is a lore-driven NFT project with ties to blue-chips or parent NFTs like BAYC, World of Women, Cool Cats, Pudgy Penguin and more. The project is tricky to understand because there is no roadmap and its exact use cases are unclear.
Many NFT types comprise the 10KTF project more than any other NFT project to date. These include PFP wearables for the metaverse, accessories and weapons for a Web 3 game in development, and NFTs you can stake and earn rewards from.
It's led by some of the space's biggest names, including Beeple and Guy Oseary, who represents Bored Ape Yacht Club. In the real world, Oseary represents Madonna and U2. The team teases information about the project via cryptic Twitter and Discord updates from the fictional Wagmi-San persona protecting Neo Tokyo from the Kaiju monster. Basically, the project plays on the Japanese Godzilla genre, that of monsters destroying cities. The project relies on hype and mystery as a marketing tactic.
You can get into the 10KTF NFT project in several ways. These include buying a 10KTF Genesis piece or buying a "blank" NFTs from the project and crafting an accessory for another NFT that you own. For the latter, you'll need a parent NFT like an Ape, World of Women or a Cool Cat.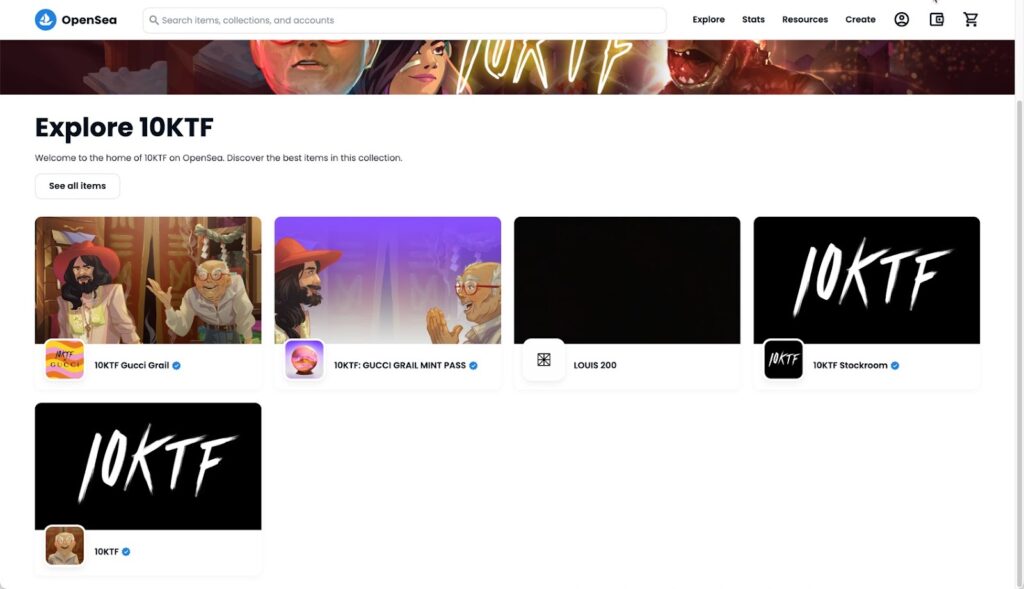 Owning one of the parent NFTs enables holders to create wearable 10KTF NFTs for the project. Basically, an owner of a parent purchases a blank from the 10KTF stockroom collection and then turns it into unique accessories, wearables and now weapons for their character, all within the 10KTF metaverse. If you found that confusing (I did, too!) or can't afford a parent, you can simply pick up a 10KFT NFT on the secondary market that someone else crafted.
The easiest and best way to get into the project is by buying a Genesis 10TKF NFT as holders of these receive the most airdrops and benefits. To find those, navigate to 10KTF primary collection on OpenSea and use the search filter to select the "Genesis" property. Wagmi-San regularly says, "Genesis is king" i.e. they get the most rewards. Expect to pay a premium, though. Granted, not Ape prices.
The Team Behind the 10KTF NFT Project
Wagmi-san, a fictitious character living in a fictitious Japanese city Neo Tokyo, is a renowned craftsman. You can follow this character's Twitter handle (@10KTFshop) to get updates and news about the 10KTF NFT project.
Wagmi-san crafts grailed tools, items, and accessories for the Web 3.0 world. He has set up a virtual shop in Neo Tokyo city to help genuine holders craft NFTs and participate in virtual battles against the Kailua monster. Expect that lore to change as the project progresses each season with new storytelling events.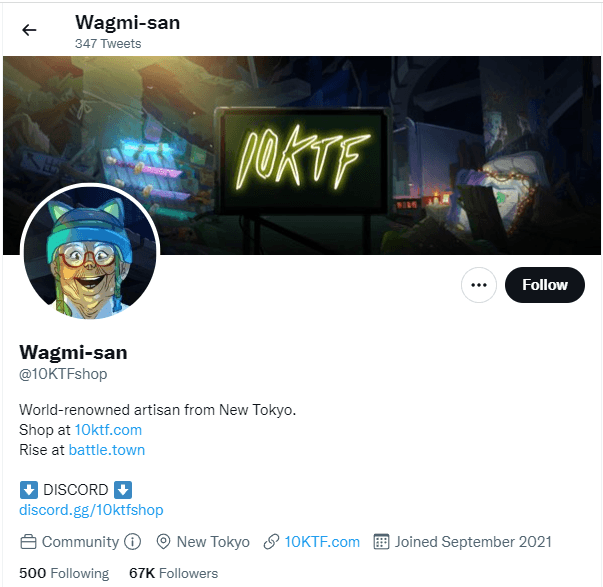 The real-world team of founders and developers consists of the following NFT and Web 3.0 experts:
Beeple (Co-founder)
Michael Figge (Co-founder)
Guy Oseary (Co-founder), he also represents BAYC
Tim Smith (Co-founder)
Paul Billings (COO)
Randy Chung (CTO)
Tim Thompson (CTO)
Lisa Kang (VP of Production)
Lindsay Ezykowich (VP of Partnerships)
Wilbur Han (Head of Product)
Robin Har (Head of Design)
Supported Parent NFT Projects
At the time of writing, the NFT project supports the following PFP NFT projects. Basically, if you own of these, you can potentially mint a 10KTF NFT by purchasing a blank from the project:
World of Women Galaxy
Wolf Game
Nouns
Pudgy Penguin
Forgotten Runes Wizards Cult
Mutant Ape Yacht Club
Moonbirds
CryptoPunks
Forgotten Souls
Gutter Cat Gang
CrypToadz by GREMPLIN
Bored Ape Yacht Club
0N1 Force
Bored Ape Kennel Club
In short, 10KTF has ties to most Ethereum NFT blue-chips. It regularly rewards holders of those blue-chips if they participate in the 10KTF ecosystem. I.e. buy a blank, craft a 10KTF NFT, participate in games etc.
Navigating the 10KTF NFT Ecosystem
To participate, pick up your 10KFT NFT and navigate to its portal. There, you'll see the floating world of Neo Tokyo. The world map shows various access points, which change as the project develops each season. Currently, these are the 10KTF shop or SSCC, the Back Alley and Battle Town.
You'll need to connect your Metamask wallet to all the world map access points like SSCC, Back Alley, and Battle Town. If you prefer a hardware wallet over a software wallet, you can use various Ledger wallets like Ledger NANO X, Ledger NANO S Plus, etc., along with a Metamask plugin.10KFT supports Warm, a new protocol for protecting valuable NFTs in a cold wallet while still enabling safe interaction with a project via a hot wallet.
10KTF Shop
SSCC is the accessory crafting shop of the famous crafter Wagmi-san, the fictional persona behind the project. To use the shop, buy blank materials from the 10KTF NFT Stockroom on the OpenSea NFT marketplace. These raw materials could be cotton cloth, rolls of rubber, blank socks, combat crates and so on. These blanks function as the building blocks for crafting other NFTs each season.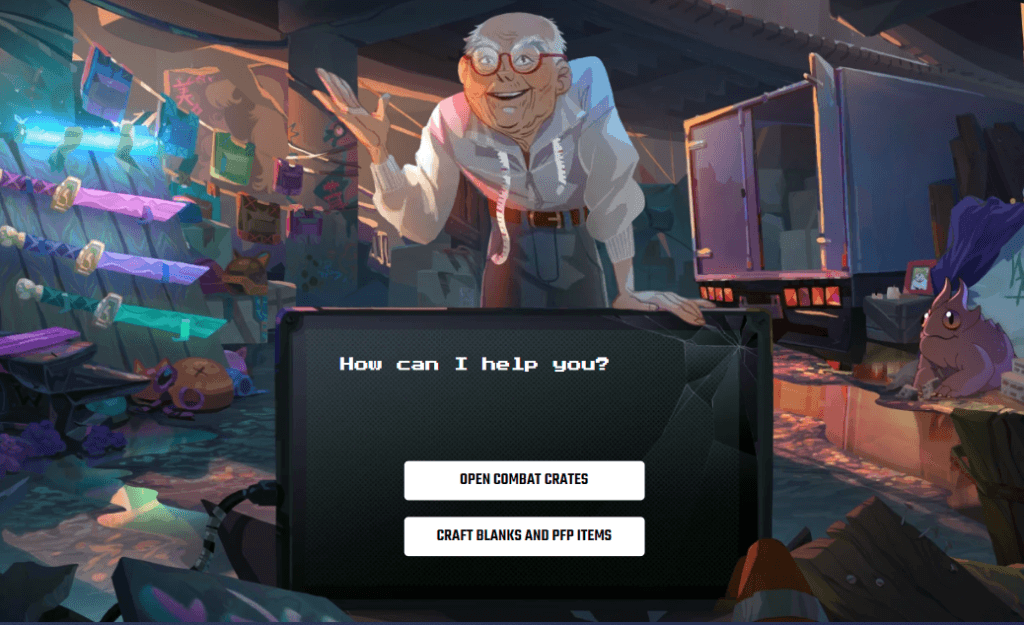 As of Season Two, the crafting items button on the shop offers two options: Open Combat Crates and Craft Blanks and PFP items. To craft a blank or PFP item, buy the relevant raw material or tool on OpenSea and you must also own a supported parent NFT.
If you bring your own Stockroom materials and enough NFT gas fees, you can craft blanks in the Wagmi-san shop for free. You'll need to spend 20 ApeCoins, gas fees, and a blank to craft level 1 finished items.
For level 2 finished combat gear, you'll need to provide gas fees and a combat blank from the 10KTF NFT Stockroom on OpenSea Opening a combat create reveals a weapon. These items are meant for use in the 10KTF ecosystem with your parent. That said, a parent is not required to play.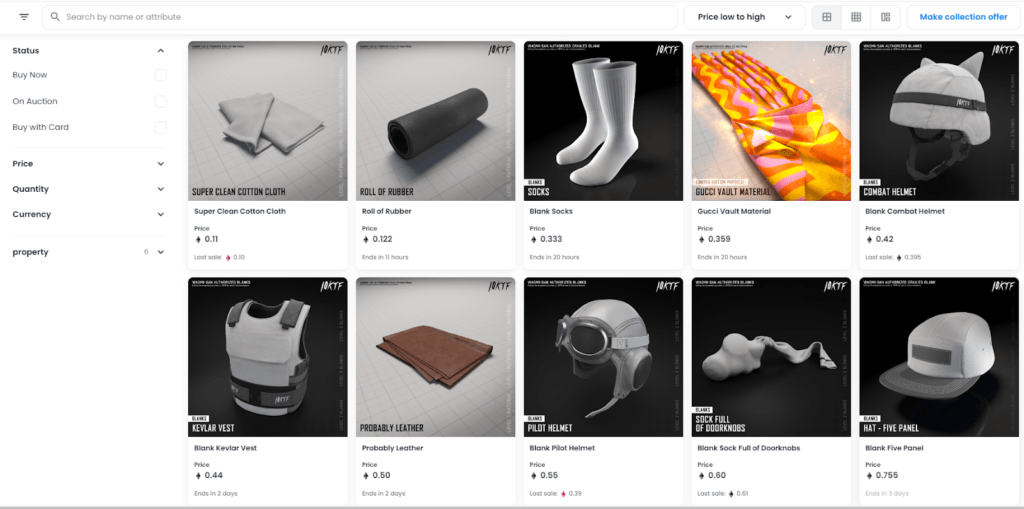 10KFT Back Alley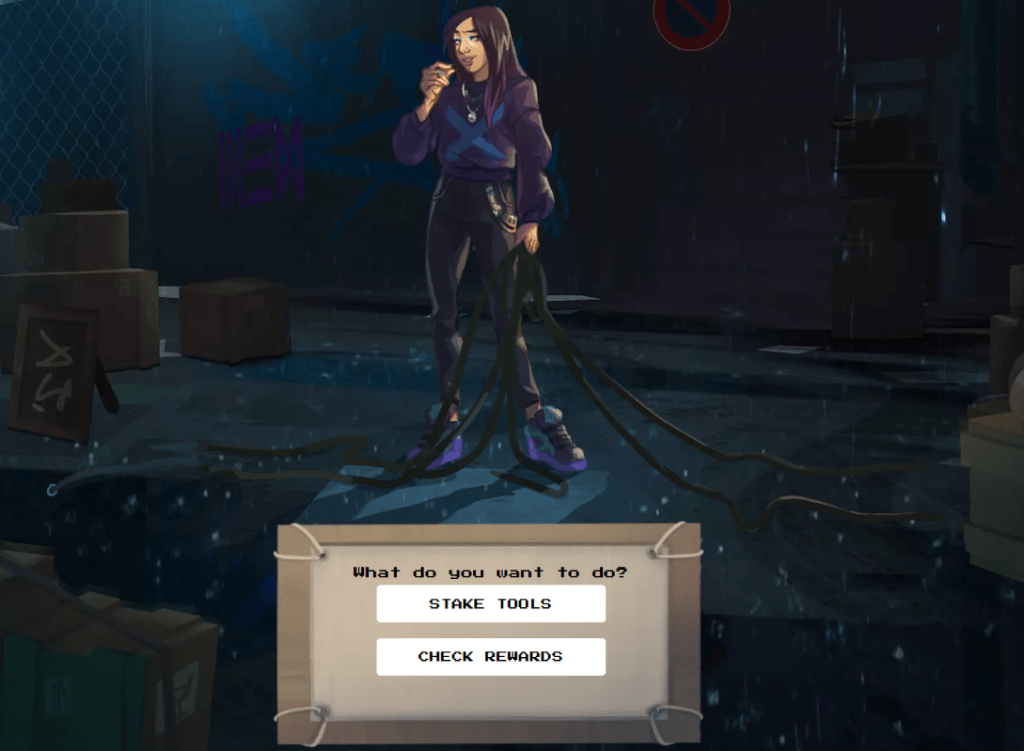 The 10KTF Back Alley is a place for staking NFTs related to the project and claiming rewards. Alternatively, you can also use this window to stake tools like Long Ass Tape Measure, Stupidly Sharp Scissors, and Cute Lil' Thimble. Some of these were airdropped to early supporters of the project. They are the priciest NFTs from this project to buy on secondary.
ApeCoin is the official native token of the 10KTF NFT project. Those engaged in the 10KTF ecosystem can use ApeCoin and also sometimes receive some as a reward for interacting in the project's games and within the Neo Tokyo virtual world each season.
10KTF Battle Town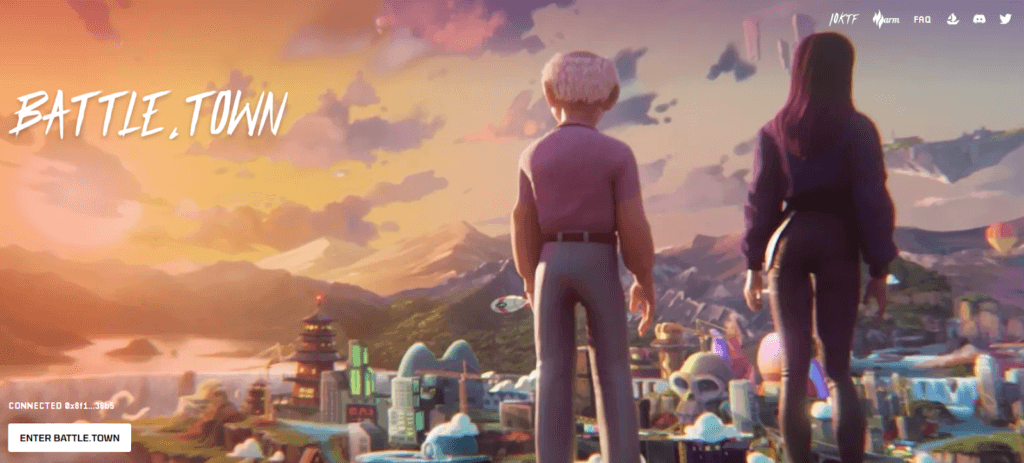 Battle Town is an NFT game within the 10KTF NFT project to engage its community in new activities and reward programs for the quest of Neo Tokyo. You can join the Battle Town events if you own one or more 10KTF NFT items related to the PFP NFT projects.
Non-parent NFT owners can also participate in limited events in Battle Town if they own either Blanks or a 10KTF Genesis NFT. Since you're helping Wagmi-san in the Neo Tokyo cause, you need to send your 10KTF NFT avatars to the battle armed with 10KTF wearables or weapons. These items are known as load outs. You can load out your NFT with several of these. Those who take part receive badges and sometimes rewards like ApeCoin.
10KTF NFT Brand Partnerships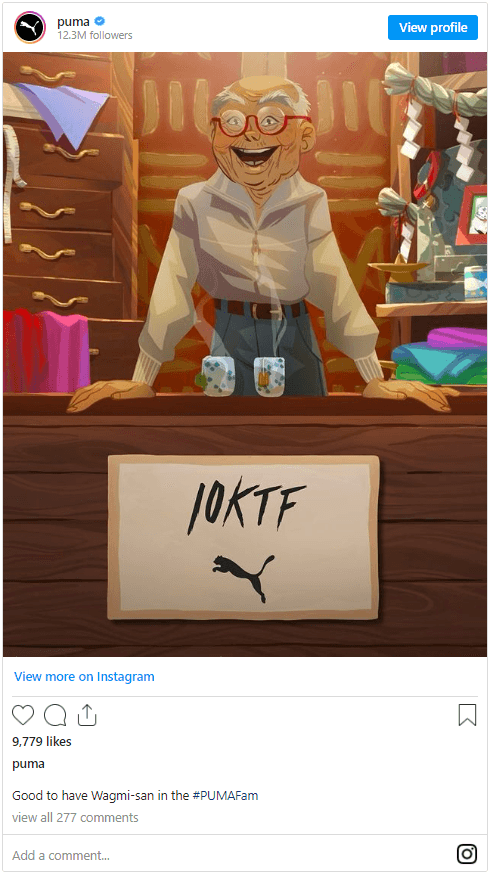 The NFT community has hyped this project because of its links to blue-chips. Several global fashion brands are partnering up with it. So far, the following brands have joined Wagmi-san's cause:
Gucci. 10KTF partnered with Gucci for the Gucci Grail NFTmint earlier in 2022.
Puma
Louis Vuitton
Nike
The Future of 10KTF
10KFT is a lore-driven NFT project that is hard to figure out. That's because there is no roadmap and its plans are shrouded in mystery. The project regularly teases its audience and holders with cryptic updates about new seasons on Twitter and Discord. These come from the fictional Wagmi-San persona (usually on Thursdays).
The confusing nature of 10KTF is its biggest selling point and its biggest risk. Many holders want to know what's going to happen next which sustains interest, but it's also an exceptionally tricky project to learn about, let alone keep up with. Also, the 10KTF game isn't a playable game yet. It simply involves interacting with the project and its contract. That said, considering this NFT project has ties to big blue-chips and is led by some of the space's top creatives, it's one to watch closely.