Read a profile of some of the best pixel art nfts collectors are holding and trading.
The NFT pixel arts, at times, are some of the costliest and highly sought-after digital assets you could own virtually.
When CryptoPunk #5822 was sold for $23.7 million recently, there was a revelation among digital artists. The discovery was simple; pixelated art with inherent meanings can create a sense of demand among the collectors in the crypto asset marketplaces.
Ever since, the citizens of the NFT universe have seen some of the best pixel art NFTs with the highest levels of creativity, messaging, and utility.
Read on to find the best NFT pixel arts that you should bookmark on OpenSea when you're ready to collect a PFP NFT artwork in pixelated format. If you need some context, check out our explainer what is pixel art?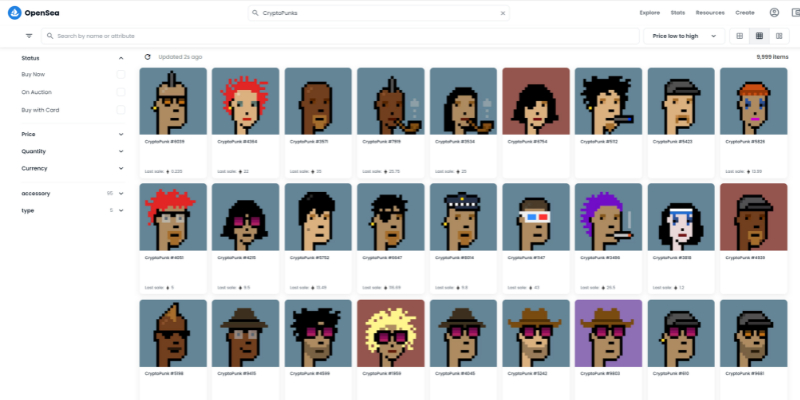 CryptoPunks are the costliest NFT pixel art that ever existed. During the mint event, anyone could claim CryptoPunks for free by just paying the gas fee. Quickly all 10,000 punks were minted, and now you can only buy a CryptoPunk NFT from the secondary marketplace.
As of September 2022, the total transactions around this project are 504.8K ETH, approximately $1.5 billion. When writing this article, the cheapest CryptoPunk available is 67.45 ETH. In the last 12 months, the project has seen more than 5,000 sales proving that it's still a blue-chip NFT project.
Canadian software developers Matt Hall and John Watkinson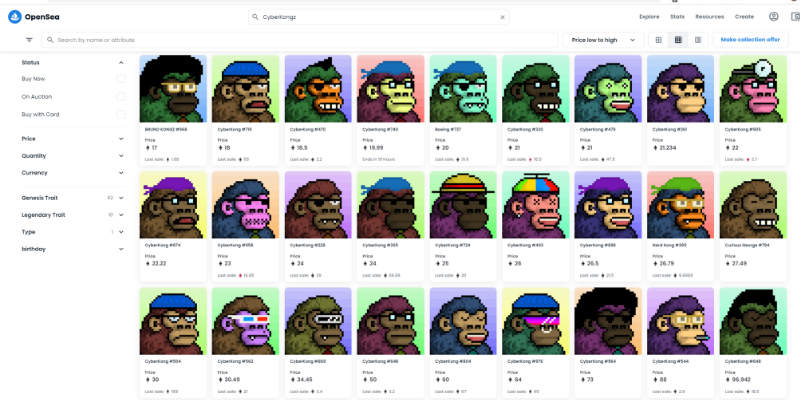 CyberKongz NFT project is one of the high-grossing projects accumulating 26.7K ETH in total transactions so far. There are multiple CyberKongz NFT versions like CyberKongz (Babies), CyberKongz: Play & Kollect, CyberKongz VX, and CyberKongz OG.
CyberKongz OG is a collection of 1,000 NFT drops. These were the very first to be minted.
The project team runs the CyberKongz ecosystem with the utility token $BANANA. You can stake your OG apes to earn 10 $BANANA coins each day for up to 10 years. Apart from tokenomics, there are adventure runs for your apes.
You can also enter the Sandbox metaverse, the Kongz Island, by using CyberKongz VX NFTs as metaverse avatars.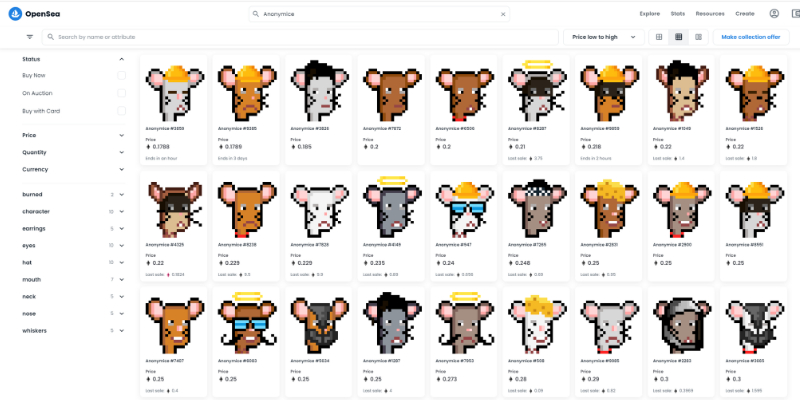 Anonymice is a collection of 10,000 unique NFTs of mice showcasing various rarity traits like stylish whiskers, earrings, sunglasses, gold chains, necklaces, etc. These are generative art NFTs. There are no APIs or IPFS for artwork.
Each NFT was produced with an interaction between the seed and generative art algorithm. Hence, the artwork stays directly on the Ethereum mainnet with lossless visual quality.
Anonymice NFT owners were able to burn their NFTs to get a new mouse with rare features. Today, they get access to proprietary tools for navigating the NFT market. The private Anonymice Discord groups contain various tech-minded NFT holders and traders.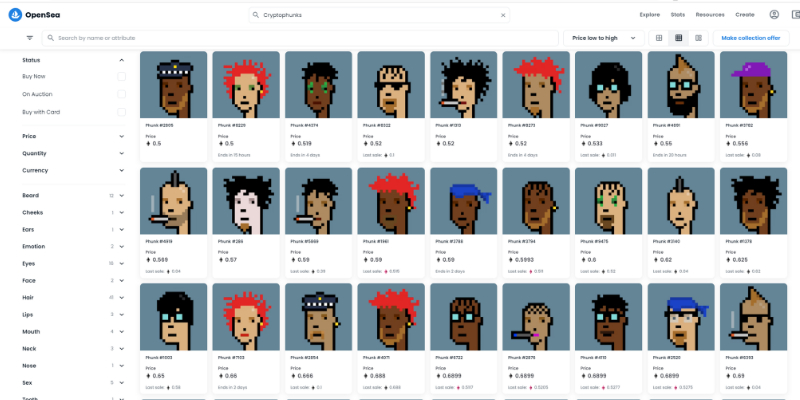 If you're looking for more Phunky (Funky) NFTs than CryptoPunks, then you must check out the CryptoPhunks project. While the CryptoPunks are right-facing, CryptoPhunks are left-facing characters of punks.
The project is one of the best examples of a decentralized NFT project. There's no brand or corporate control over the project. The CryptoPhunks community themselves has pulled up the project from the ashes and built a marketplace around it.
So far, the project has seen a total NFT volume trade of 1.3K ETH. The average floor price of a CryptoPhunk is 0.5 ETH as of September 2022. Hence, if you can't afford a CryptoPunk NFT, you can try your luck with CryptoPhunks.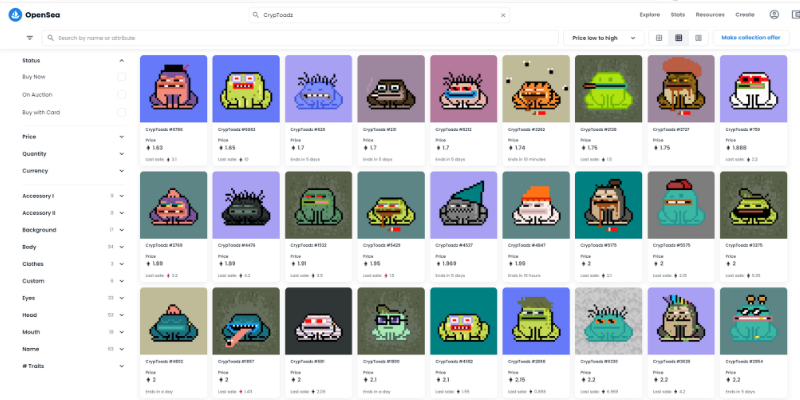 CrypToadz is yet another best NFT pixel art that demands attention if you're primarily an NFT collector. These toad-themed PFP NFTs have been created by Gremplin, who previously saw moderate success with his Nouns collection of NFTs.
The collection comprises 6,969 NFT artworks portraying amphibious creatures with unique and rare characteristics. Rarity traits of this collection include Accessory, Background, Clothes, Eyes, Mouth, Head, Name, etc.
These are CC0 NFTs, meaning the owner has waived off his creative rights. Hence anyone can take inspiration from the CrypToadz artworks and create derivative NFTs, merchandise, virtual displays, and so on.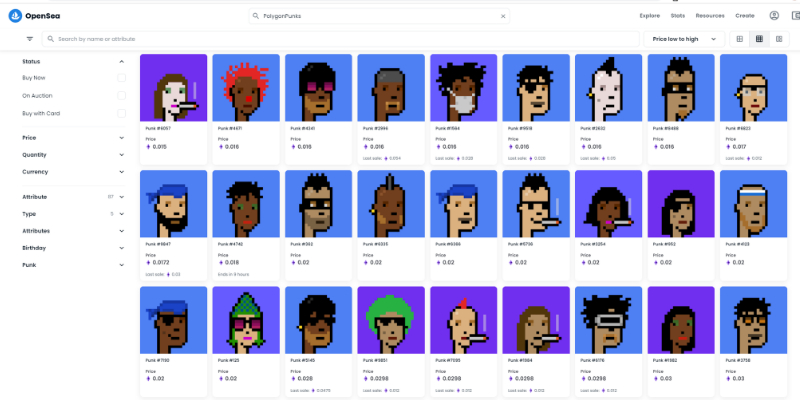 While transactions on the Ethereum mainnet require costly gas fees, the Polygon (Matic) blockchain is comparatively cheaper. Hence, many NFT artists have shifted their focus to the Polygon network for NFT project hosting.
One such popular Polygon NFT project is PolygonPhunks. It's the first "punks" NFT on this network, resembling the styles and themes of CryptoPunks.
There are 10,000 NFTs in this collection. The uniqueness of the assets depends on the rarity traits like Attributes, Type, Birthday, and Punk. There are 87 total Attributes like Earring, Mole, Nerd Glasses, Eye Patch, and more. Similarly, there are 5 types of punks: Female, Male, Ape, Zombie, and Alien.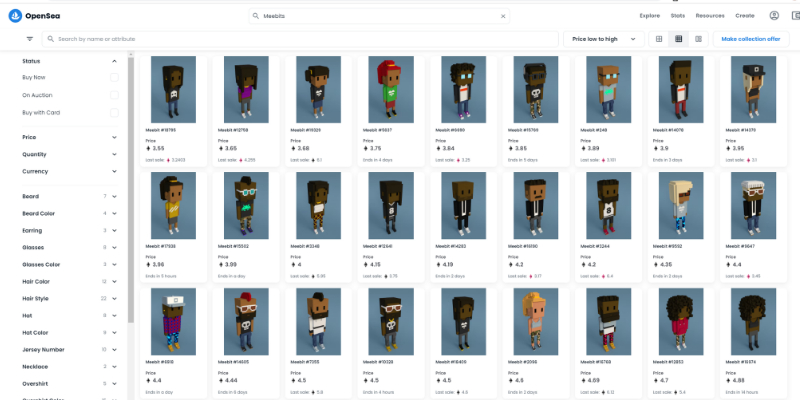 Meebits are 3D profile picture NFTs based on voxel arts. Voxel arts are also pixel art but use 3D pixels instead of 2D pixels. Also, its pixel size is tinier than the 2D pixels of pixel art. Hence, the finished artwork looks modern and fits well in a 3D metaverse.
There are 20,000 unique NFTs in the Meebits project. You can collect the NFT you like directly from the Meebits app NFT marketplace, where you don't need to pay any fees for trading.
All the Meebits NFT owners get an additional package of assets. It includes a complete 3D model of the NFT they hold, a T-pose OBJ file for 3D modeling software, and a high-resolution NFT file with lose-less visuals.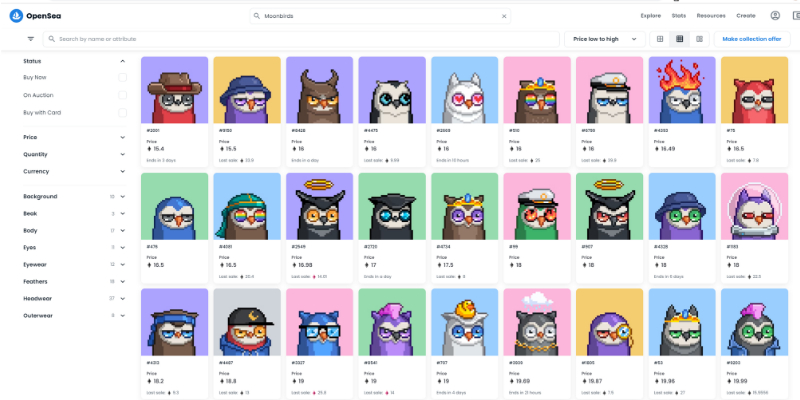 The 10K collection of Moonbirds NFT is essentially owls with different artistic features projected via pixel art. The creative features or traits of these digital owls include Background, Beak, Body, Eyes, Feathers, Eyewear, and more.
These PFP NFTs earn you various perks when you become an owner. First off, you get exclusive access to the PROOF Collective. The PROOF club offers you early access to PROOF podcasts, a private Discord channel, and in-person events.
Apart from the above, there're exclusive Moonbird-related drops, in real life (IRL) events, and priority access to the upcoming Highrise project, aka the PROOF metaverse.
Furthermore, you can lock your Moonbird in a nest on your wallet to accumulate additional benefits like nest upgrades and new tier levels for your Moonbird character.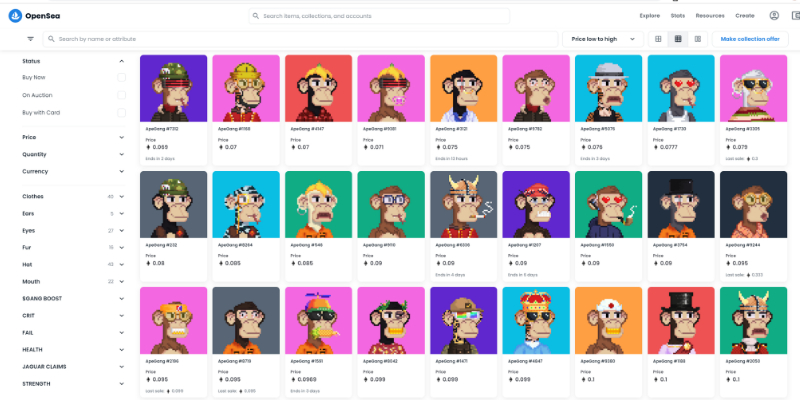 The Ape Gang NFT project of 8,200 pixel arts making a lot of buzz due to reasons like an elaborate project roadmap, a lot of utilities, and the Ape City Metaverse. The project includes three separate NFT projects: Ape Gang, Toucan Gang, and Jaguar Gang.
The flagship project, Ape Gang, was sold out in just 19 days, proving that the Ape Gang brand has attained the popularity they were looking for.
Furthermore, NFT collectors, traders, gamers, and enthusiasts engage with the brand frequently to experience its online play-to-earn games Fight Club and Gang Wars. You can use any of the above NFT projects' characters to fight player-vs-player (PVP) matches and win $GANG, a native token of the project.
Not to mention, there is a big community behind the project whose active involvement keeps up the value of the project's assets.
Best Pixel Art NFTs: The Final Words
Pixel arts follow the artistic notion: less is more. It drives digital artists to isolate the most important character, message, or theme of the artwork and focus on that.
Also, these artworks are small, simple, crisp, and can easily fit as a 2D profile picture, avatar, or even 3D avatar on metaverse. Not to mention, they go well with the punk culture and digital fashion.
Looking for something more modern yet pixelated? Then, you must learn what is voxel art.