Discover the 10 best glitch artists who have created some of the most impressive glitch art on the market.
Glitch art is a fascinating field whereby artists use computer glitches to create intense images, flashy GIFs, and short videos. Some artists use software to create errors within their art, while others take advantage of deliberate 'mistakes to add a distorted twist to their creations.
This post profiles some of the best glitch artists and their finest glitch work.
1. XCOPY
XCOPY is the most well-known glitch artist, especially among digital art collectors and NFT enthusiasts. Little is known about the man behind XCOPY, but several reports have claimed that he was born in London in the 1980s. His work is generally very hard-hitting, often depicting dystopian scenes and tapping into the suffering of everyday people.
*Some A**hole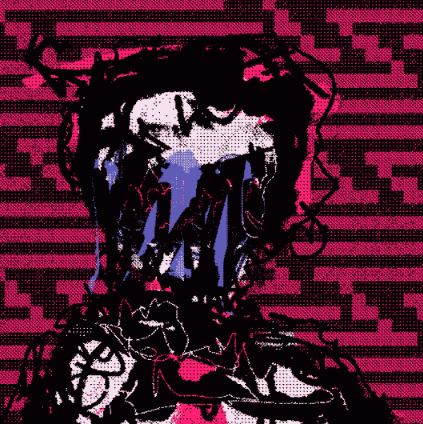 The Some A**hole 1:1 glitch art NFT is textbook XCOPY; the GIF has an intense combination of dark, flashy colors and depicts a tragic-looking office worker with monstrous facial features.
Despite the dark undertones of this glitch art, it became one of the most valuable glitch NFTs ever when it was sold to the NFT enthusiast and rap superstar Snoop Dogg for just under $4 million in 2018.
*Last Selfie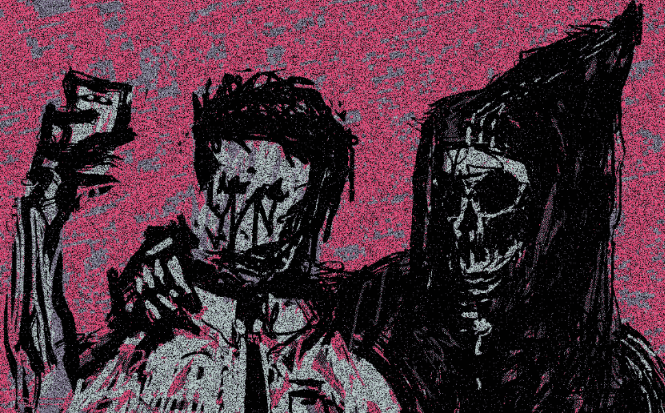 The Last Selfie is XCOPY's brilliant way of commenting on our smartphone addiction and our constant need to take selfies. The glitch art image features red and grey pixels glitching out in the background as an office worker snaps a selfie with death.
Ten copies of the Last Selfie were minted, and the most expensive one sold for $750K in 2021.
*All Time High in the City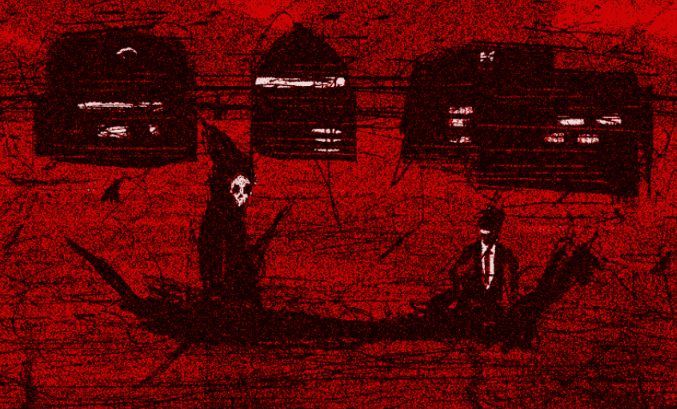 My favorite from XCOPY is All Time High in the City. The grizzly GIF has a constantly glitching red background sliced with black pen strokes while death rows passed grim-looking office blocks with his doomed passenger. The piece was sold for ETH 1000 ($2.9 million) in September 2021.
You can learn more about XCOPY, his work, and his glitch technique in our 'who is XCOPY' post.
2. Daniel Tempkin
Daniel Tempkin has spent his career exploring how combining computer software with human creativity can be used to enhance our artistic expression. Daniel's work often centers around the idea that computer code is in and of itself a form of art. As a result, his work often combines generative art techniques and glitch effects.
Glitchometry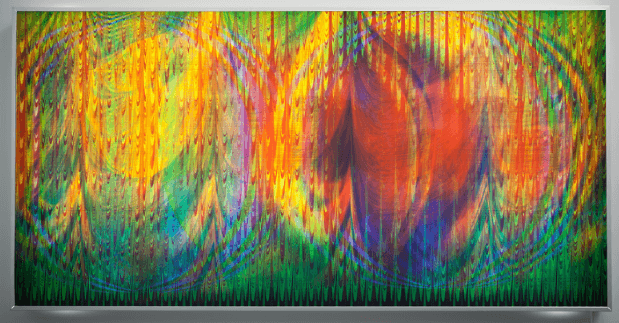 Glitchometry uses glitch art and generative art tools to combine shapes, colors, and angles into stunning pieces of glitch art. According to Daniel, the image manipulator used to create the collection started with just a few black squares and circles. It was then fed auditory information, which it reacted to by creating new shapes and colors.
The image manipulation system is similar to data bending, a popular way of creating glitch art. The result of the data bending is a collection of eye-catching digital art canvases where colors and shapes appear both cohesive and completely chaotic at once.
3. Philip Stearns
Philip Stearns blurs the lines between computer glitches and reality by creating real-life fabrics with a glitch art twist. The New York-based artist's 'Glitch Textiles' label has created dozens of glitch art style fabrics that he's woven into throws and pillowcases.
I understand that 'throws' aren't generally the source of great excitement, but Philip's work is truly eye-catching and a fantastic example of glitch art.
Glitch Textiles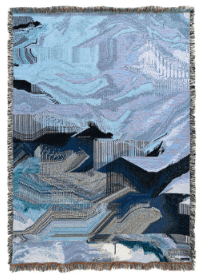 One of my favorite pieces is the 'Vector Drift' throw which depicts vector art style shapes glitching across the fabric, creating a hypnotic pattern that would excite any glitch art fanatic.
The throws sell for over $200 a piece, which might initially sound expensive, but they would brighten up a dull living room.
If you don't think Philip's work is worth $200, you can design a throw using a Glitched Gradient tool on his website and have it stitched and shipped for $100.
4. Rosa Menkman
Rosa Menkman is a Dutch researcher and artist who has focused on the use of glitch art within digital and analog media. Rosa has played an active role in The Digital Museum of Digital Art (DiMoDA), a digital art project using various computer programs and instruments to create stunning 3D and VR exhibitions.
The Vernacular of File Formats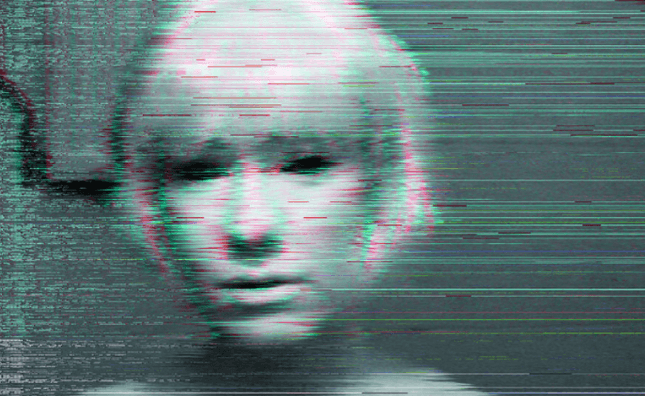 The Vernacular of File Formats is a collection of 50 glitch art images depicting terrifying images of a ghostly female figure surrounded by glitching lines of code and discolored lines. The images were created using a popular glitching technique known as data compression.
5. Systaime
Michael Borras, better known as Systaime, is a French-born artist who founded the SPAMM, the Super Modern Art Museum and is involved in dozens of high-profile art projects in Europe, North America, and Asia. His digital art portfolio is expansive and touches on various facets, but his most exciting work is within the glitch space.
PLAYA LOVE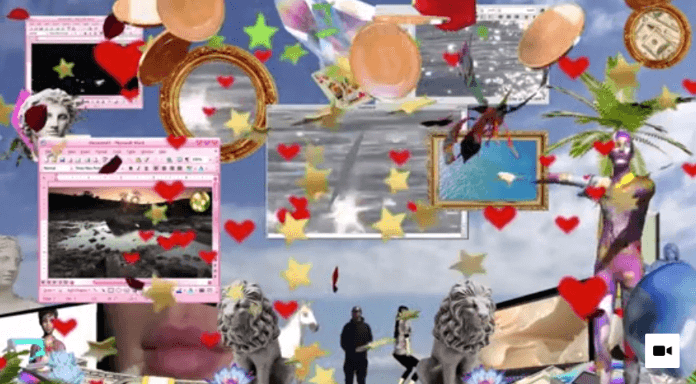 PLAYA LOVE is a glitch art GIF with the typical randomness we have come to expect from the world of glitches. The GIF depicts random objects like mirrors and statues drifting across the screen under a shower of Bitcoins and playing cards.
Only two PLAYA LOVE NFTs were minted, and both have been sold. Systaime has a few other similar NFTs for sale on Elementum. You can also find some of his GIFs on Giphy.
6. Margo Wolowiec
Margo Wolowiec is a Detroit-based artist who studied at the School of the Art Institute of Chicago (SAIC) and uses digital image manipulation techniques to create glitch art which she then transfers onto textile canvases.
Her work has been displayed in the US and the UK. She has recently focused on climate change and has been expressing sustainability concepts through glitch-art-style canvases.
The handwoven Whole Earth canvas displays four different biomes; a river in Iceland, a coral reef, a wilderness in New Zealand, and the Australian countryside. According to the Jessica Silverman gallery, Margo created the piece to highlight the interconnected nature of the planet.
Blue Yellow Blue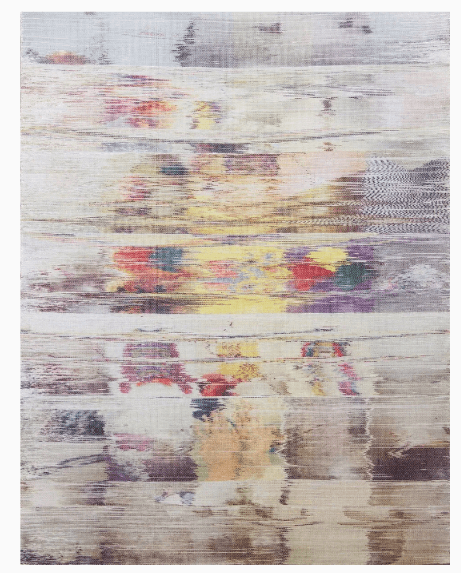 Margo creates glitch art textiles by mapping digital distortions on a physical canvas using dye sublimation ink. The result of her experimentation is the Blue Yellow Blue canvas that maps a series of digital distortions submerged in a VHS-style background.
Margo has created dozens of other intriguing glitch art canvases, and you can browse them on her page at the ANAT EBGI's gallery website.
7. Matthew Plummer-Fernandez
Matthew Plummer-Fernandez is a Colombian-British digital artist who explores socio-economic issues through generative and glitch techniques. He often customizes software and builds bots that create abstract styles. Highly-respected outlets such as The Guardian, Wired UK, and Dazed & Confused have recognized his work.
Matthew's most notable contribution to the glitch art field is his Disarming Corruptor; this free software corrupts 3-D files to create glitch effects that can be 3-D printed. You can see the software in action on Matthew's Vimeo.
Glitch Reality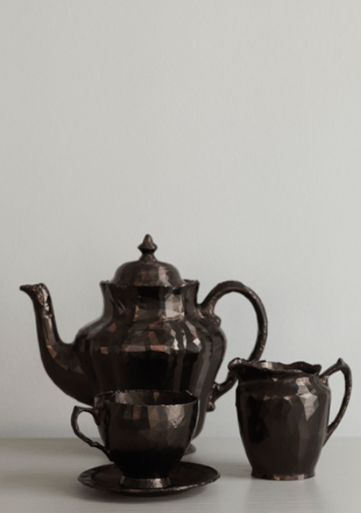 Through Glitch Reaity, Matthew brings glitching to everyday items you expect to find in IKEA or your living room. The process behind the collection is fascinating; he scans the objects, generates a digital image, and then uses distortion software to create glitches in the image. Once the glitch software has done its work, he brings the glitchy teapots, mugs, and vases to life by printing them into reality using a 3D printer.
8. Kalliope Amorphous
Kalliope Amorphous is a photographer and artist from the United States who often explores surreal settings and uses various distortion techniques common to glitch art. Her work is diverse, including intense portraits and mysterious landscapes. Kalliope's work has been featured in exhibitions in countless countries, including Spain, India, and the United States.
Mixed Signals: The Art of Glitch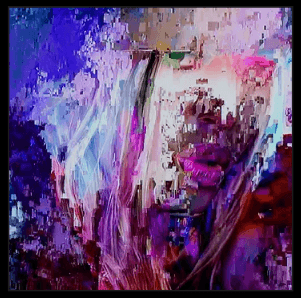 Mixed Signals uses glitch art to directly comment on the temporary nature of beauty and how we have distorted our understanding of beauty through the airbrushing ever-present in our digital lives.
The portraits in this collection were taken from various talk shows and commercials where presenters are often made out to be 'flawless.' Using a combination of generative art and glitch art programs, the images have been broken down, thus revealing a deconstructed version of their false facades.
9. Nukeme
Takuma Fujimoto, better known as Nukeme, is a Japanese fashion designer, musician, and artist who brings glitch art into the fashion world by introducing errors at the most basic level through specialized sewing machines.
Glitch Embroidery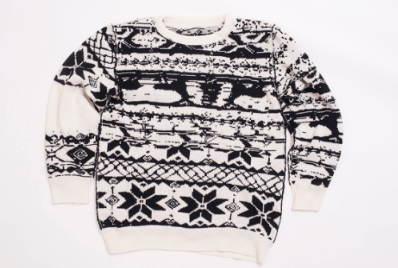 Nukeme's Glitch Embroidery project is designed around his ambitious plans to 'hack' a knitting machine to create a truly glitched knitwear fashion line. Nukeme hooked up his laptop to an industrial knitting machine and used a software program to insert errors into its knitting process.
According to a video on Vimeo where he explains the process, the machine has a glitched output process that affects the structure of the lace knitting. It results in an uneven process creating highly-distorted patterns like the one on the jumper you can see below.
The Glitch Embroidery project has been a great success, with glitched jumpers and T-shirts produced by the knitting machine selling for well over $200 apiece.
10. Peder Norrby
Peder Norrby is the founder of Trapcode, a Swedish computer graphics company, and runs his art blog titled 'Anxious // Bored.' His work is exceptionally varied partly because he often comes up with ideas while feeling bored or depressed and then simply runs with them until they've become entire portfolios.
Mapglitch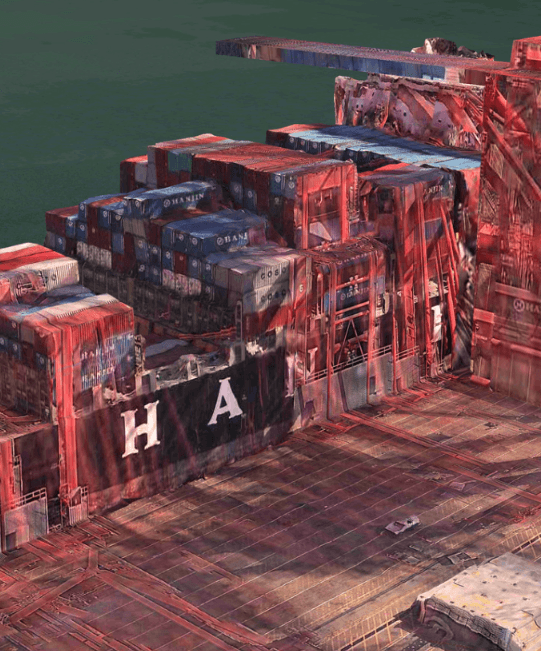 Although Peder didn't create the images in Mapglitch, he is responsible for finding and collating them into a collection. While browsing iOS maps, Peder found numerous glitches in the system and began to collate the most eye-catching discoveries.
My favorite is the container ship image that has somehow suffered some sort of color bleeding resulting in what looks like a red spiderweb spreading across the giant ship. Several outlets, including Spiegel Online and Gizmodo, picked up the glitch collection.