Discover the ultimate list of the best ENS clubs you can follow to collect an ENS domain that may bring good luck or good return in the future.
Like the Web 2.0 domain name craze, people are now racing to collect and hold on to the best ENS domain names that could give a better return on investment (ROI) or bring good fortune.
Some of the best and top-grossing ENS domains come from alphanumeric characters, English names, a combination of emojis, digits, English alphabets, and so on.
Investments made in such Ethereum domain names are highly speculative. However, that didn't stop the Twitter handle @zr0art from buying the 000.eth domain name for 300.00 ETH.
If you're also emotionally connected to words, numbers, and emojis and want to collect an ETH domain that fits your requirement, continue reading this article on some of the best ENS.Vision assets.
What Is an ENS Club?
As the name suggests, ENS clubs are fraternities where the project developers, .ETH domain owners and ENS enthusiasts meet to discuss the project roadmap, new domain registrations, upcoming projects, and more.
Like the communities that govern successful and top-grossing NFT projects, ENS clubs are the league of people who make an ENS club project successful.
People would form a club to give the project a face whenever someone releases a collection of .ETH domains for minting. For example, the 10k Club, 360 Degrees Club, etc. The club members stay in touch through social media like Twitter and Discord.
It's a standard norm for the project owner to announce new mint events or other happenings on their Twitter handles. And all the discussions take place on Discord servers.      
What Is ENS.Vision?

ENS.Vision is an aggregator or secondary marketplace for .ETH domain buying, trading, and activity tracking. Currently, it showcases Web 3.0 domains or blockchain domains for sale from its collection and third parties like X2Y2, LooksRare, OpenSea, and Rarible.
Zimtente created the ENS.Vision marketplace utilizing the decentralized marketplace protocol Reservoir. Presently, the marketplace charges a 20% fee from the creators who want to publish an ENS club collection. It also charges a 1.5% sales fee from all the .ETH domain name sales. The buyers and traders need to pay the gas fees when they transact on ENS.Vision.
ENS.Vision is one of the leading platforms to launch ENS club collections, and buy/trade ENS domains. It hosts thousands of collections, but here is the curated list of ENS clubs you may check out, follow, or bookmark:

It's a collection of .ETH domain names from 000 to 999, and hence highly rare since these are of 3 characters. There're a total of 1,000 items in this ENS club. The top-grossing item of this collection is the 000.eth domain which is priced at 300.00 ETH. Currently, it's on sale for 5000.00 ETH.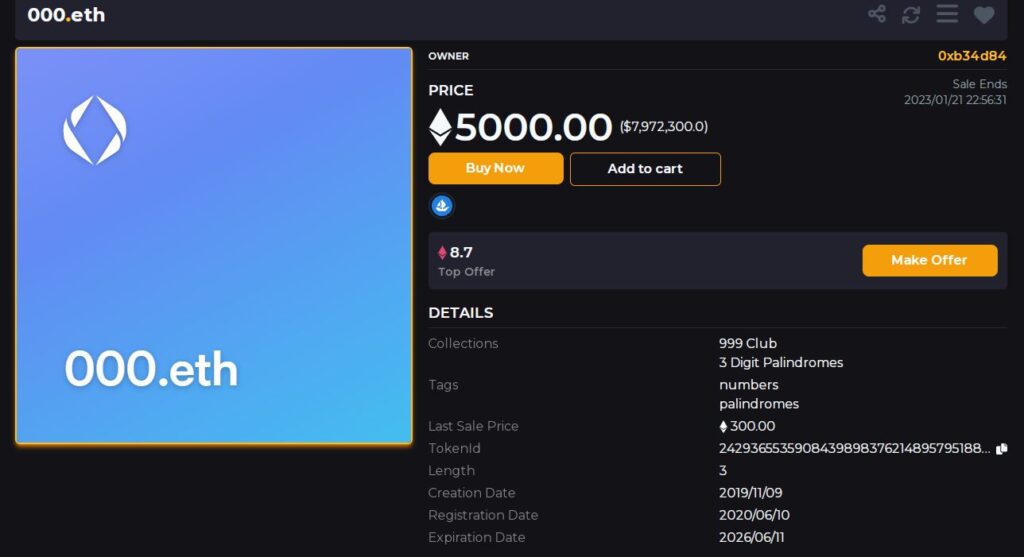 999 Club has reported 9,251.8947 ETH total volume trade as of September 2022. In September, its floor price hit 35 Eth and is considered one of the blue-chip collections for ENS domain names.

It's costly to maintain a 3 character domain name on Ethereum. Hence, you can go for the 4-character long .ETH addresses. The best ones you can find on the 10k Club collection.
The domain names are available from 0000 to 9999. The top-grossing one in this collection is the 8888.eth address that was sold for 38.00 ETH. Its current floor price is highly lucrative which is 1.6827 ETH, and shows an increase in the trend of 24h volume traded.

If you're looking for some cheap ENS domain addresses in the range of 3 characters, you can check out the 3 Letters collection. Out of 17,576 items, 14,662 have been listed. So, there's a good chance you can get one at the mint price.
The sam.eth is the top-grossing item in this collection and is priced at 100.00 ETH.

This ENS domain collection consists of 4,001 items. The ETH addresses come with 4-letter long English dictionary words. As of September 2022, the collection recorded over 1,313.4202 ETH in volume traded.
One of the most buzzing ETH domain addresses is coke.eth, which comes from this collection. It was sold for 40.00 ETH.

Pokemon Trainer DAO best ENS clubs
It's one of the finest collections on ENS.Vision that showcases Pokemon names as ETH domains. There're 905 items on this ENS address project, and all of them have been minted and are only available for buying and trading from secondary marketplaces.
The Pokemon name durant.eth is the top-grossing item that fetched 14.90 ETH in sales.

This ENS club is for 10,000 ETH addresses consisting of numbers and emojis. The address format is 4 pairs of numbers and emojis where numbers come before the emojis.
If you've got a lucky number of 4 digits and also like emojis, then it's the right ENS domain project for you. Furthermore, the floor price is fairly cheap (0.011 ETH) as of September 2022. Hence, it's an attractive collection.

It's a collection of Arabic numerals from 000-999. There're 1,000 items in the collection and hence considered highly rare. Furthermore, this ENS domain address project got a lot of attention among crypto asset enthusiasts in the Middle East.
The highest-grossing item in this club is the domain address ٠٠٠.eth or 000.eth and priced at 100 ETH.

If you're looking for an ETH domain name from 000 to 999 in the Chinese language, you must check out this collection. It has 999 items for sale and the floor price as of September 2022.
Though the cost of owning a domain name is cheap, the yearly renewal fee could be costly since the fee is $640/year excluding gas fees.

The Pre-Punk 1k collection consists of 999 ETH domain names that were registered before the launch of the CryptoPunks NFT project. These are vintage Ethereum blockchain domain names and come with great historical values.
The project owner registered all the domain addresses between May 9 to June 23 of the year 2017. The highest-grossing item of this collection is foundation.eth and priced at 7.00 ETH. As of September 2022, the floor price averaged 0.49 ETH for the Pre-Punk 1k collection.

If you've loved the series of Harry Potter novels and movies, you may want to check out this collection of 140.00 ETH addresses in Harry Potter character names.
The floor price of this ENS club is 0.07 ETH as of of September 2022 and hence truly affordable. Moreover, the minimum domain name length is 4 characters, and the renewal cost is inexpensive.
2 Hex Club is a collection of 256 0x2Hex codes as ETH domain names. Though it consists of a comparatively low number of items, it recorded 193.0761 ETH total traded volume as of of September 2022 — which is pretty impressive.
The top-grossing item in this collection is the 0x00.eth domain address bought by the wallet address 0x1fbd48 for 13.00 ETH.

Female Firstnames enables you to choose a Web 3.0 domain address that matches your name. The collection consists of various first names suitable for females, and domain name length starts from 5 characters.
As of of September 2022, the floor price is 0.025 ETH. Thus, owning and renewing the domain names are highly affordable.

This ENS club offers Ethereum domain names created from angles of a 360° circle. Hence, there are 360 items, and ETH domain addresses are available from 001°.eth to 360°.eth.
It's yet another fairly cheap domain address collection on ENS.Vision. As of September 2022, the floor price is 0.07 ETH. The top-grossing asset is 218°.eth, priced at 0.475 ETH.
Best ENS Clubs on ENS.Vision: Final Words
So far, you've gone through some best ENS clubs on the ENS.Vision marketplace for Ethereum blockchain domain names. You can follow the market trend and activities from above and pick one or two when the market condition is favorable.
Before investing, remember that ENS domains are still in their nascent stage of development for good economic returns or future roadmaps. Web 2.0 domains are here to stay.
There's a very thin chance for ENS or Web 3.0 domains to replace Web 2.0 domains in the next few years. Hence, you might want to hold on to your ENS domains for some time before you can exit with a reasonable ROI.