This Unstoppable Domains review explains all you need to know about this NFT domain service, how it works, and the pros and cons.
The problem that frequently arises when sending cryptocurrencies to yourself or other people is ensuring you have the correct address. Since cryptocurrency addresses are a complicated string of letters and numbers, even when you do a copy-and-paste, you probably still carefully check that it is all pasted correctly.
This is where Unstoppable Domains comes in. Its NFT domains can be utilized as decentralized apps (dApps)-enabled and fully functional websites. You can also use them as a type of payment gateway address for sending and receiving over 275 different cryptocurrencies and tokens.
Unstoppable Domains promises to be the domain addresses of the future by providing intricate crypto addresses with a human-readable name.
What is Unstoppable Domains Wallet?
Unstoppable Domains, first and foremost, enables consumers to buy and mint domain extensions like .crypto or .zil and others.
The current CEO, Matthew Gould, created Unstoppable Domains in 2018 after realizing that users needed a simpler way of dealing with crypto addresses. What was achieved using DNS (where users type in the website domain name and not the IP address) is what Unstoppable Domains wants to achieve. Such that users can send cryptocurrency directly to a domain name and not to a blockchain address.
They have achieved great success by developing a domain system that enables users to manage payments for 276 crypto assets under a single domain name, as well as the ability to use the domain as a fully functional website that can even have dApps built onto it because the domain is hosted on the blockchain.
Go to the Unstoppable Domains website and search for your domain name to see if it's available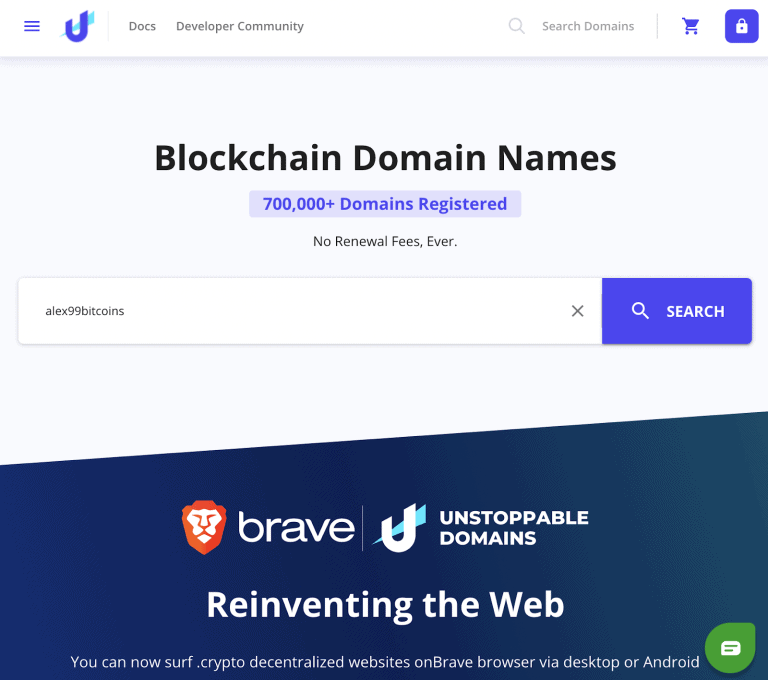 Click "add to basket" after finding the domain you want, then proceed with the checkout process. Numerous fiat and cryptocurrency payment options are available for purchasing the domain.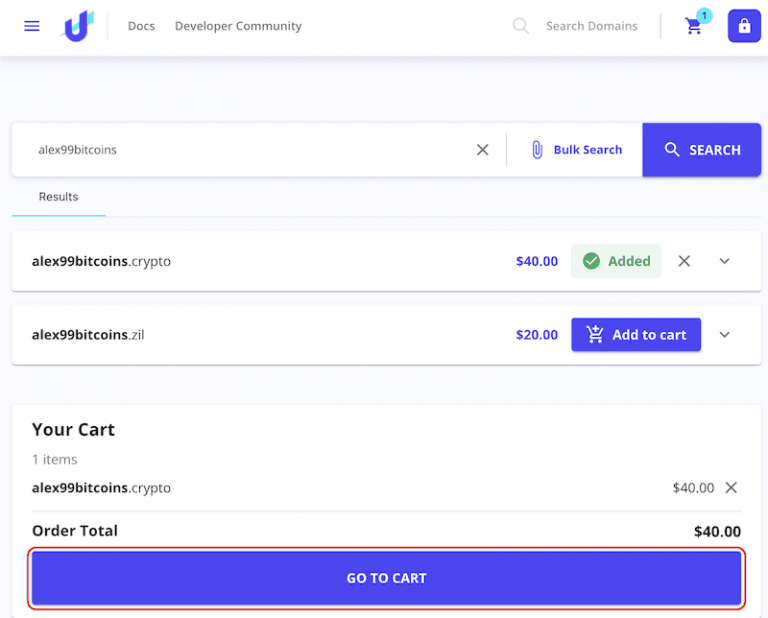 You now have a .crypto domain! Unstoppable Domains still controls it, though. You must transfer your .crypto domain to your Ethereum wallet using MetaMask to keep and use it.
When you click "My Domains" from the hamburger menu, you can mint your domain by paying with your Ether from your MetaMask wallet or by buying "Mint Credit" from Unstoppable Domains. Choose the appropriate selection, then comply with the mint instructions displayed on the screen.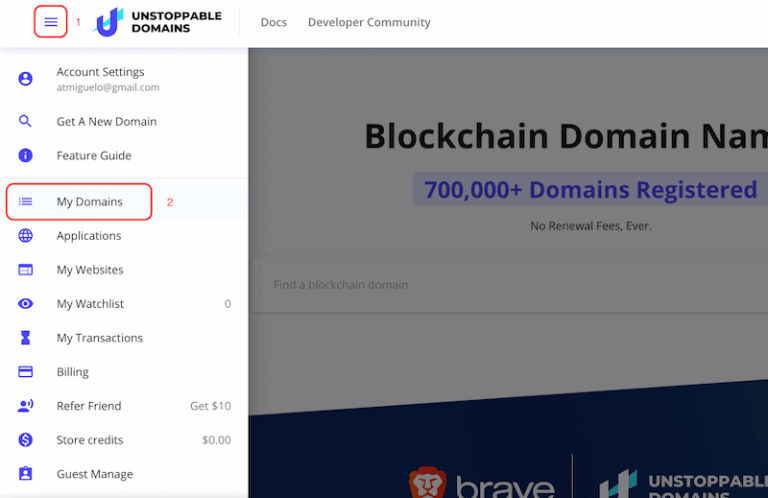 The mint will take some time to process on the Ethereum blockchain after you have submitted it. Your newly registered domain name will have "pending" next to it. Your domain name will be saved in your wallet once it clears.
Finally, we'll connect our domain name to our crypto addresses. Click "Manage" under "My domains" to begin.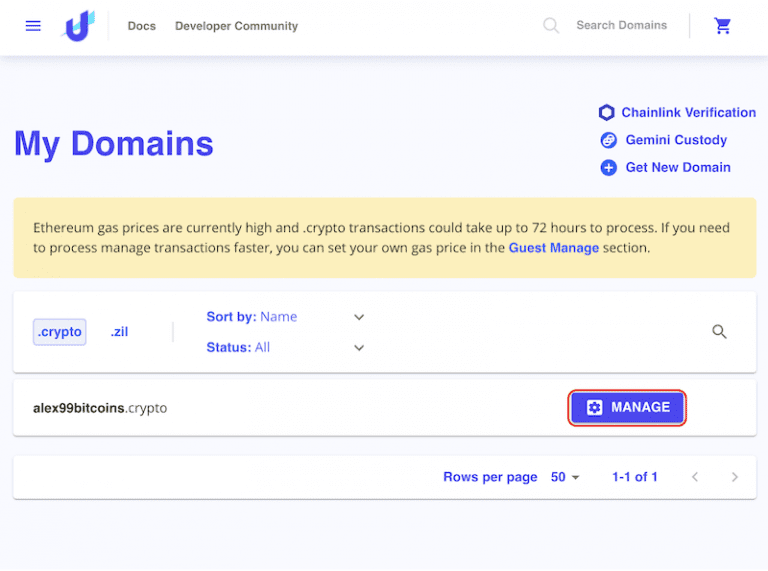 Your crypto addresses should be copied and pasted into the corresponding areas before you scroll down and click "save all changes." Using your web 3.0 wallet, you must sign the transaction.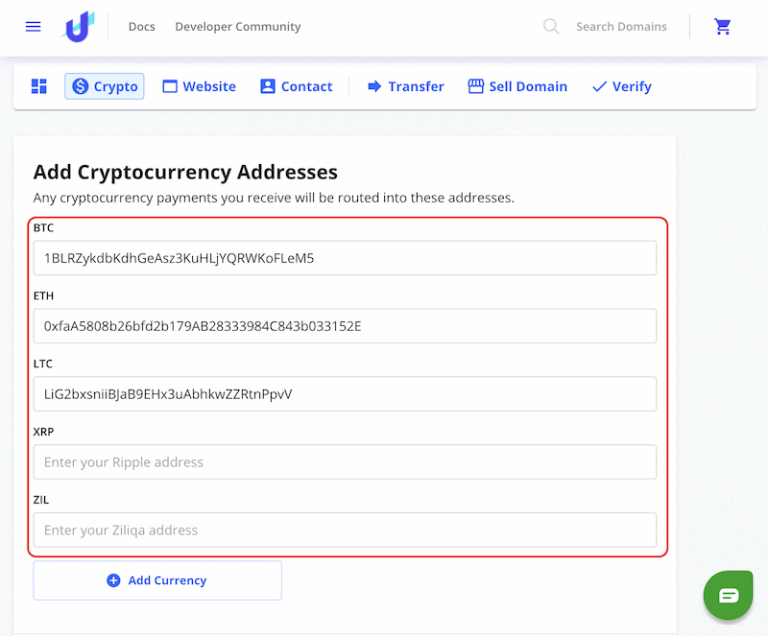 That's all! Now, instead of using your standard crypto address whenever someone wants to send you money from a compatible wallet, they can just type in your .zil or .crypto domain name.
That said, sending and receiving crypto using Unstoppable Domains is very easy. Once you are done setting up your domain as detailed above,
Open your crypto wallet
Type in your domain name where you would formerly type in or paste in your wallet address
Select the amount of crypto you want to send
Click send.
It's that easy. To receive cryptos using the Unstoppable Domains is also pretty straightforward; just give your domain to the sender.
How To Sell A Domain on Unstoppable Domains
Once your domain has been added, you can put it up for sale on the Unstoppable website as well as add an email to it.
To do this, navigate to the My Domains page and click Manage next to the domain you want to put up for sale. Add your email address by clicking the Sell Domain tab.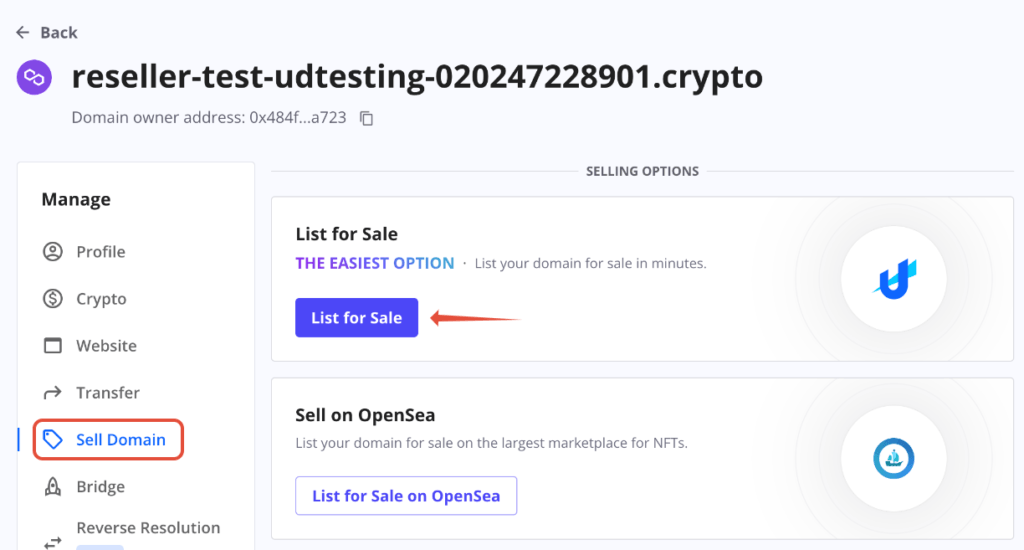 After you have added your email address, tick the box underneath to list the selected domain for sale. Next click List for Sale.
You will redirect you to sign a transaction in your wallet to verify and publish the changes made to the blockchain. When you're done, a For Sale tag will be displayed next to your domain if a user searches for it.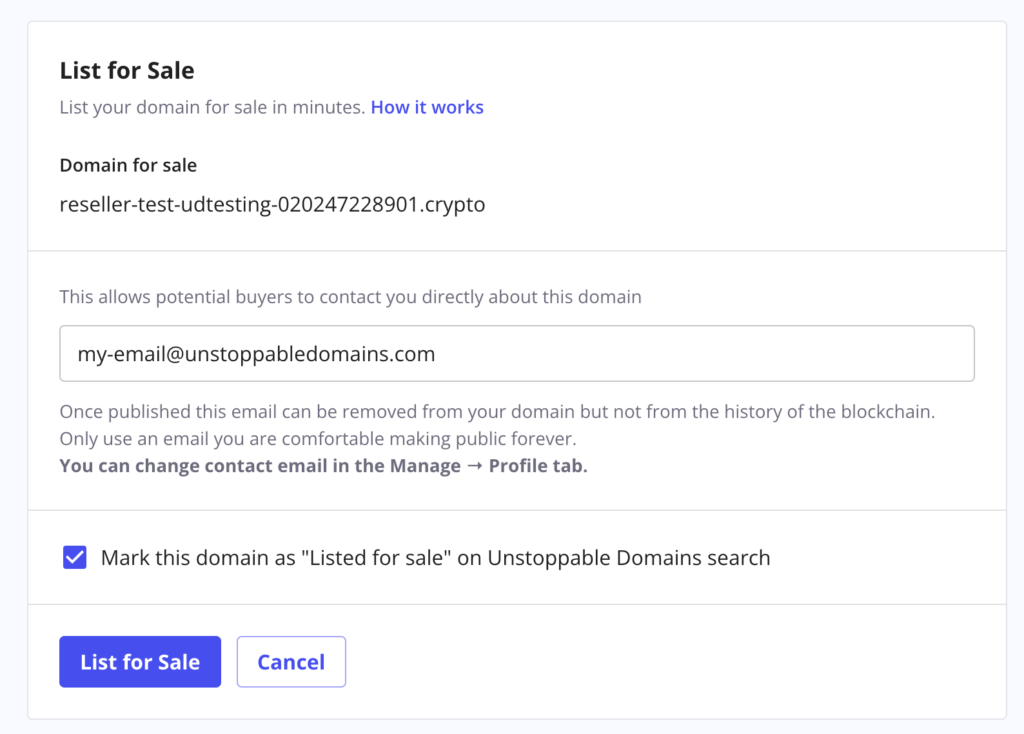 To sell on OpenSea,
Go to OpenSea, and navigate to My Profile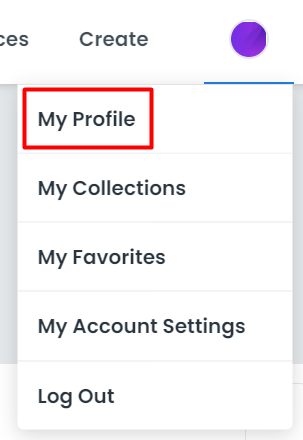 Find the domain you want to sell and click on it.
On the next page, click on Sell button located in the top right corner of your screen.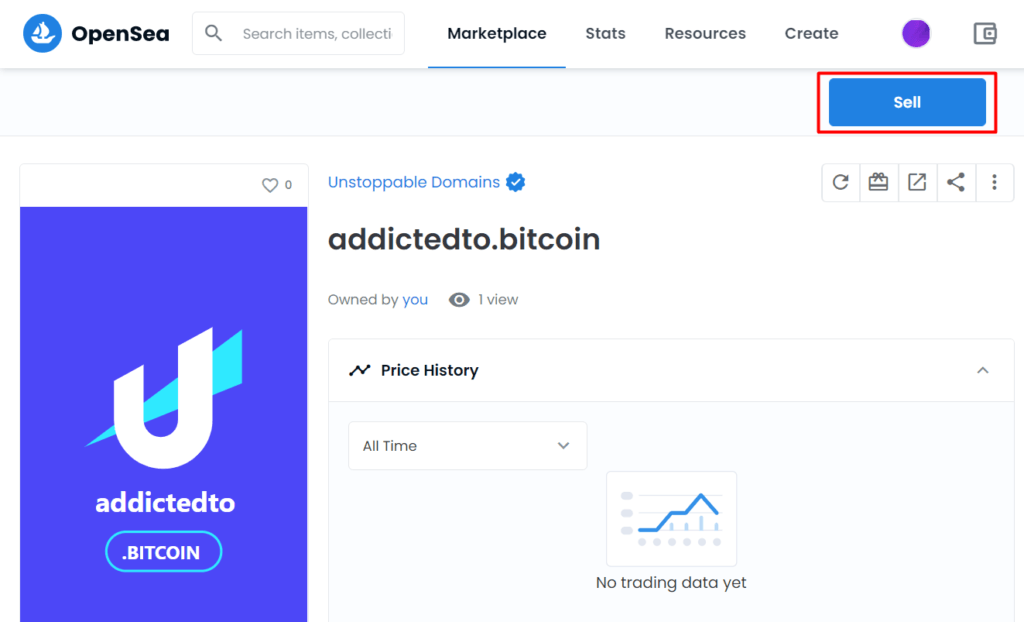 Fill in the required details on the List item for sale page. When done, click on Complete Listing.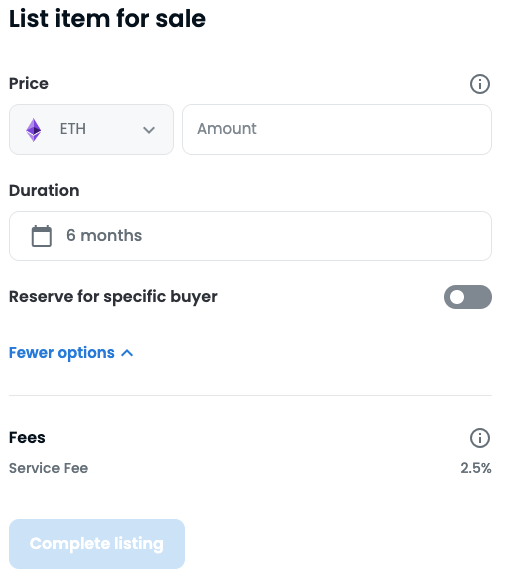 Use your wallet to sign the transaction, and you should be done. If your wallet is on MetaMask, you would be directed to sign with MetaMask.
One-time Purchase Feature
Given the way traditional domain ownership operates, the fact that Unstoppable Domains offers a one-time purchase with no yearly renewal is very appealing.
You don't have to bother about renewal fees or issues with your hosting company. It saves time and, above all, renewal fees.
Build and Link Websites
Users of Unstoppable Domains can create websites and link them to their domain name. Although it can seem too complicated for the average person to understand, Unstoppable Domains offers some excellent tools to simplify the process.
You can use four different sorts of themes on the Unstoppable Domains website for free, including:
Blog
Personal
Coming soon
For sale
With only one click, Unstoppable Domains will assist you in storing the website you create using a template on the decentralized InterPlanetary File System (IPFS) storage network.
For more experienced users, there is also the choice to manually build their website from the ground up and link the IPFS hash using the Unstoppable Domains user interface.
Brave, Opera, Chrome, Firefox, and Edge can open these decentralized websites once the Unstoppable Domains browser plugin is installed.
If you want to try out this feature, follow these simple steps:
Click the website button from the menu. You will be given a template to use to create your web page.
You can choose from various models on the "choose a template" page.
Utilize the right navigation bar to input any content you want to use on the web, including titles, words, colors, and photos.
Then press the IPFS to publish button. You must sign two transactions with your wallet to confirm that you control the domain.
Your website will be published to IPFS. Be aware that accessing the website may take a few minutes.
Return to the home page and choose domains.
Choose website
Click the "upload files to IPFS" link to upload your files and connect your website.
Is Unstoppable Domains Wallet Safe?
Unstoppable Domains is incredibly secure since, after being claimed, the domains remain under your address on the blockchain and are therefore just as secure as the blockchain itself.
It is doubly safe because doing this prevents anyone else from blocking the domain, ensuring that your website is never in danger of going offline due to censorship. The domain-buying website is secure as well and supports two-factor verification.
If you're asking about what happens if the server crashes?
Not to worry. The user's assets are safe. IPFS (Interplanetary File System), a decentralized hosting service that hosts Unstoppable Domains, stores all of the platform's content and makes it accessible even in the event of a server failure.
Don't worry about a third party blocking your domain since once you own it, you own it. You have total control because it is immune to censorship.
Unstoppable Domains Wallet Competitors
| | | |
| --- | --- | --- |
| | Unstoppable Domains | Ethereum Name Service (ENS) |
| Platforms | SaaS | SaaS |
| Audience | Anyone who wants to transfer bitcoin, Ethereum, or any other cryptocurrency using a single domain. | Individuals looking for a way to store all their addresses and crypto assets using their ENS names. |
| Support | Online | Online |
| Company | Unstoppable Domains. United State (unstoppabledomains.com) | ENS. Founded in 2018 (ens.domains) |
| Categories | NFT domain | dAppsDeFi ProjectsDeFi ToolsNFT Domain |
| Integrations | Coinbase WalletMetaMaskMyEtherWallet (MEW)TorusWalletConnectAtomic WalletBRDBlockchain.comChainlinkCoinomi | Coinbase WalletMetaMaskMyEtherWallet (MEW)TorusWalletConnect |
Unstoppable Domains Review: The Final Word
Unstoppable Domains is a brilliant invention that allows everybody to benefit from the new breed of blockchain-based websites.
Unstoppable Domains does an excellent job of simplifying the procedure for the average users interested in affordable NFT domains. It also removes the requirement of acquiring cryptocurrency before buying an NFT domain.
Given how difficult it would be to design and launch a decentralized website today, the website builder tool is also incredibly easy to use. That said, it's not a replacement for for a dot com domain.
In short, we like Unstoppable Domains best for acquiring NFT domains that we can send and received crypto to and from.