Can you buy NFTs on a smartphone? Find out if you can buy NFTs on a smartphone on OpenSea and MagicEden and how to do it.
If you're thinking about trading NFTs on the go and don't want to pull your laptop out on the bus even if your buy alerts are ringing, purchasing NFTs using your smartphone might be a good option.
Fortunately, some of the most well-known NFT marketplaces have optimized their sites for Android and IOS devices. This guide will walk you through buying NFTs on your mobile on OpenSea and MagicEden.
Purchasing an NFT On OpenSea Mobile
OpenSea is the biggest NFT trading platform by overall volume and offers an enormous range of NFT collections. The platform is streamlined and easy to use on PC and mobile. The most popular NFTs are generally on the Ethereum blockchain, so before we go any further, make sure you have a compatible Ethereum wallet such as MetaMask and some ETH. Follow these steps to purchase an NFT on OpenSea mobile:
1. Download The OpeanSea Mobile App
Visit the app store on your mobile and download the OpenSea application, or head over to the website. You can only use the app to browse collections. To make a purchase, you'll be redirected to the mobile site.
2. Browse the OpenSea NFT Marketplace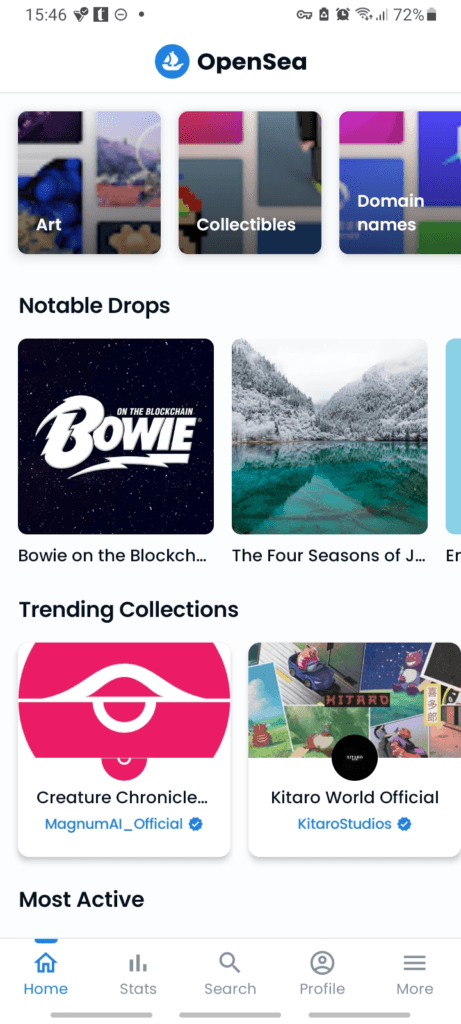 Browse the OpenSea marketplace until you find the NFT you want to add to your collection. If you're struggling to find anything of interest, consider filtering by type of project or ordering by recent trading volume to find out which tokens are hot.
Take your time! Learn how to spot bad NFT projects.
3. Buy Now or Auction
Once you've found an NFT, you like and can afford and like the look of, click the blue Buy Now button under the NFT or offer a Bid if it's an auction-style sale. Remember, do your own research as NFTS are risky.
4. Connect Your Wallet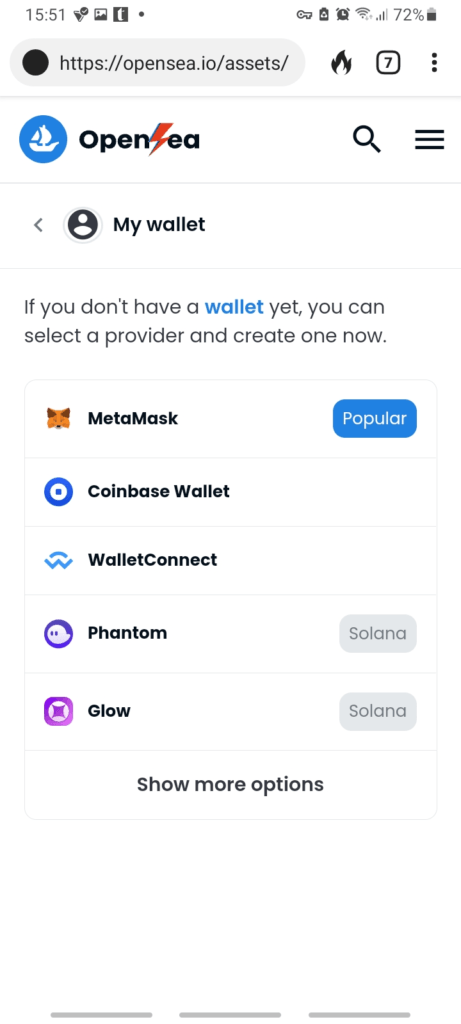 After you've clicked buy now or won the auction, you'll be prompted to connect a compatible crypto wallet such as MetaMask or Coinbase.
5. Set Payment
On OpenSea, you can pay with fiat using a credit, debit card, or crypto; press the complete purchase button once you've decided.
6. Pay Fees
Unfortunately, trading NFTs isn't free, and depending on which blockchain you interact with and the traffic at the time, but the fact that OpenSea shows you an estimated fee before your purchase is great. That said, check the price of gas or Gwei on the Ethereum blockchain before buying.
7. Complete Purchase
Complete your purchase by accepting the terms and conditions before entering your card details or crypto transaction details and pressing the pay button.
Following the transaction, the NFT will be sent to the wallet you linked to your account in step four. You can view your new NFT on your OpenSea profile page.
Purchasing an NFT On MagicEden Mobile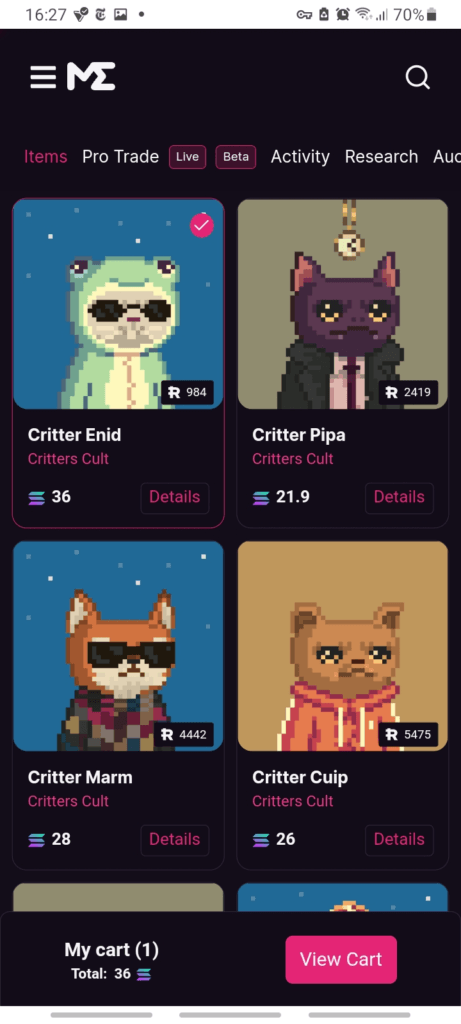 MagicEden is a leading NFT marketplace that processes a huge chunk of all Solana NFT transactions and offers customers a solid collection of Ethereum-based projects. Before you can start trading, you'll need a Solana Wallet such as Phantom, and you'll need to add some SOL to your balance.
Fees are generally lower on Solana NFTs versus Ethereum NFTs. Conversely, the floor price of Solana NFTs tends to be lower on Magic Eden vs OpenSea.
Follow these steps to purchase an NFT on MagicEden mobile:
1. Download the Magic Eden App
You can download the MagicEden app from the Google or Apple Store; however, just like with OpenSea, to purchase an NFT, you will ultimately have to visit the mobile site to complete a purchase.
2. Browse the Magic Eden NFT Marketplace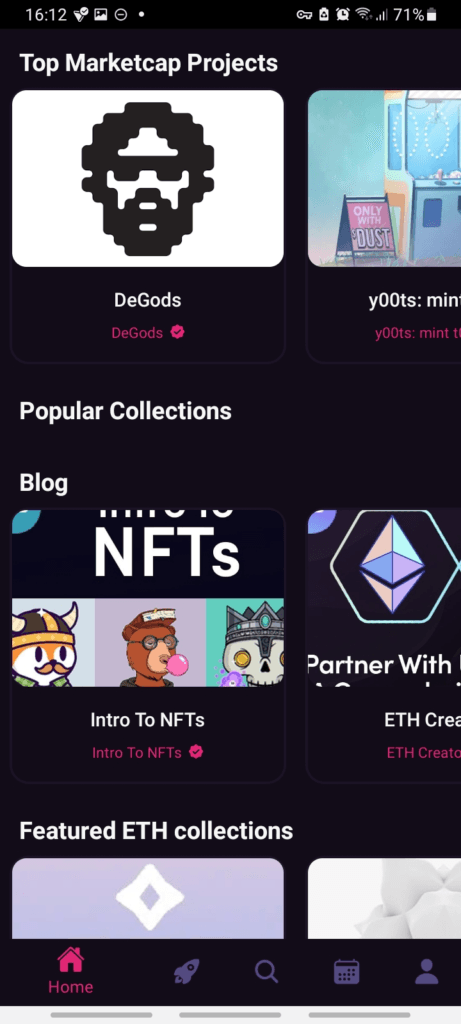 Explore the vast collection of NFTs on MagicEden, including various blue-chip Solana projects like Okay Bears and DeGods.
3. Add a Solana NFT To Cart
Once you've found your NFT, you need to tap once on the image and then press the add to cart button in the bottom right-hand corner of your screen.
4. Buy or Bid On the NFT
Depending on the type of auction, you'll either bid on the NFT or make an offer. Again, DYOR!
5. Connect Your NFT Wallet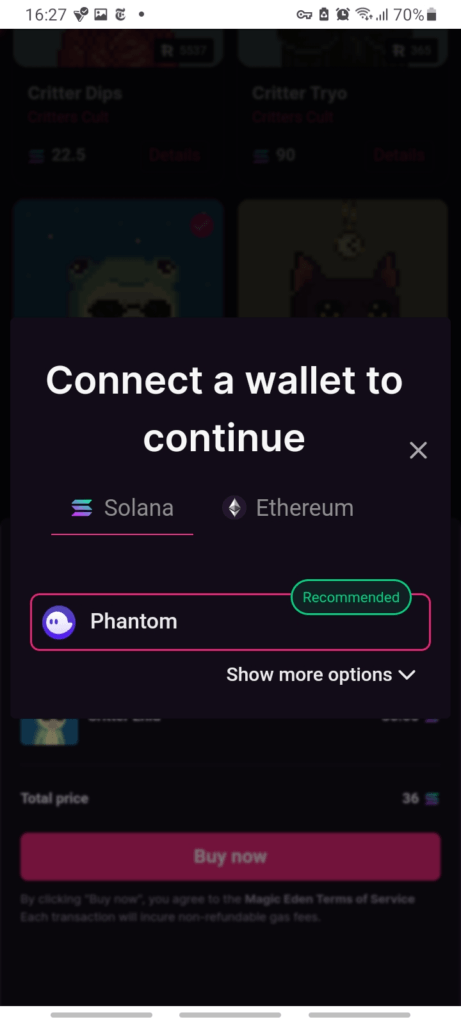 After you've clicked buy or bid, MagicEden will prompt you to connect a compatible wallet; if you're trading in SOL, it recommends using Phantom, but other approved Solana wallets are also fine to use.
6. Approve Transaction
Your wallet's browser extension will pop open and ask you to confirm the transaction, check all the details, and press confirm.
7. Check Collection
Once the transaction is confirmed on the blockchain, your NFT will be sent to your wallet, and you'll be able to check it out on your MagicEden profile.
Remember, to use a hardware wallet to keep your NFTs safe!